Hi!
Last September ( September 2017) I got a new sugar glider. I waited for him to grow, and when he was old enough, I tried introducing him. Now, I've come to the conclusion I have to get my sugar gliders neutered ( all of them are boys).
The only problem with that is, I have to save up like, $400-700 for just one glider. Especially since right now, we're trying to work out money stuff, so it'll take me a while to save up enough money. My youngest sugar glider is in a cage all by himself, and since he's all alone, I'm kind of worried he'll get depressed. Especially since there's all those stories and things about sugar gliders getting depressed and then ripping out fur, or really hurting themselves other ways, and eventually they end up hurting themselves so much they either die or need to be put down. And I definitely don't want that to happen.
Right now I'm trying to get some more stimulation things for my sugar gliders. I have some forage toys, wheels ( but rocky never uses his wheel when I see him anyway!) , and some climbing things. ( fleece ropes etc etc). I'll try to give him attention, like put him in a bonding pouch when I'm at home. I would let him sleep in my shirt but.. that's my next point. He bites me. A lot. Sometimes I can't tell whether it's actually bites or grooming. He sometimes draws blood, and he bites litterally. Everything. Not just me. Everything in sight. But he'll bite my knuckles, my hand, my elbow, my leg, my ankle, my armpit, if he can get to it, he's gonna nite me. He'll try to get into my shirt and once he's in, he'll start biting me. Since he occasionally draws blood, and since even if he doesn't it hurts like crazy litterally every time he's on me, I've grown to be sort of afraid of him, as much as I hate to say. I love him with all my heart, but I'm a little scared of him because like I said, litterally every time he's near/ on me, I know for a fact he's going to bite me and it's going to hurt a lot. This makes my family think I'm crazy, because I'm totally normal around my other two sugar gliders, but the second my younger one is out, I keep telling everyone he bites ( and sometimes they don't even beleive me ) and I want almost nothing to do with him. Every time he bites me, I make the PSSSTT sound, and he stops.. for a second. Then he'll either keep biting me, or go somewhere else, and then bite me later. What should I do? Do I just have to get used to it and be afraid of him forever?
Well, I'm sorry this was kind of a long post, I went on a little bit of a rant there, but yea. Anyways, have a nice day!
Look what I found on Ebay
goodmorning kiddo

lets not worry about the neuters right this minute, tho if your allowed to post the city/town and state that you live in there may be other cheaper vets to do neuters we discussed that before.
Depressed, every glider is different so it's hard to say. If the cage is big enough, has stimulating toys etc he should be ok. Sometimes gliders over groom, but that is not specific to just single gliders. Gliders with toys and cage mates do it too.
I will say this,
he will NOT
self mutilate and or need to be put down simply from depression or being alone. That ONLY happens if the glider is injured or if the glider is ill in some way, whether the illness or injury is diagnosed or not is another matter.
That information about dying from depression is old, out dated, inaccurate information, read all over the internet and repeated by people who read it.
Now, you are doing all the right things as far as stimulating toys and such, there are a lot of inexpensive things you can use, feathers, curly straws, plastic bracelets, pingpong ball pits, pompom ball pits, rexlace braids, easter eggs for foraging etc...
You might get him a bonding buddy ( not an actual glider ) a bonding buddy is a hedgehog made from fleece, about the size of a glider. I like them for single gliders so they have something to cuddle up with. It's also great to use when you start scent swapping before introductions. They are only like 10 bucks plus shipping
https://www.facebook.com/CreatedMoments/
if you can't get one of those, you can make a fleece pompom about the same size I can prolly find a video how to make them if you need it.
Biters... I feel ya! I've had a couple and your guy sounds like my Simon.
Simon really wanted to be on me and would try to follow his cagemate up my sleeve. She's an avid shirt dweller. He'd get up in my sleeve be ok for a few min then freak out. He slapped, lunged,bit, scraped his teeth... all of it whenever he was near my skin.
It's ok to be afraid of it, it's hard not to. But You can get him over it and I will try to help as much as I can.
can you post a pic of the bonding bag?
how does he act in the bonding bag?
Sorry I forbthe delay! I was in school all day, then I had to go to the dentist, and do homework, and finals are coming up, ( actually, I'm supposed to be studying for finals right now XD) Anyway, thank you for replying! I have some fleece that I can use to make a big pom pom with, so hopefully Rocky will like that :)
I actually did ( somehow) manage to find a vet that only charged like, $245 for an exam and neuter, so I was preety happy about that and now I'm saving up!
oKAY, about the bonding pouch: I have two that I use. One that I had before I got him, and one that I got him in. Normally I put him in the one I got him in ( the red one) but it really just depends on which one I can find and which one is clean. Here's a picture:
Also sorry if the pic is messed up, I'm kinda new to posting pictures :p. Anyway, all my sugar gliders act waaayyy better then they used to in the bonding pouch. Rocky specifically used to crab and fuss for forever when I put him in the pouch, and I'd have to unzip the pouch and let him fall asleep, then zip the pouch back up acts way better in it now. I started putting him in it more and now, if it's the middle of the day he will just crawl right in. He usually will take a couple minutes to get settled and be fussy, but after that he'll calm down and just fall asleep. And stay like that, unless I do something stupid and the pouch swings or something. He doesn't crab, and I don't usaully see him try unzipping the zipper ( which my other boys have done before, shockingly.). He will lick the mesh window part, which I think is preety weird. I don't see him trying to bite through the fabric or anything though.
I'm going to attempt to find some cheap ways to give them more toys and stuff, I'll def. look into the things you mentioned :)
Thank you for your help and have a nice day!
Ok those look like single layer pouches so there is probably exposed stitching inside. Make sure you check the insides often for loose threads and keep their nails trimmed!
A sewing vendor friend of mine would be happy to send you a safer pouch in fact I talked to her about a specific one for the single boy and possibly a fleece sleeve to help the single get used you being in your clothes/shirt.
There are some other things for biting we can work on too but it's not a quick result thing, you will have to work on it with him gradually. So maybe after finals and school lets out for summer when you have more time. In the mean time I'll get some pics together of inexpensive stimulating things you can make with stuff you might already have

For now, keep working with him in the bonding bag and not in your shirt
Nothing with a hole smaller than 2 inches
Dollar store, plastic bracelets, Chinese finger traps ( paper ones ) easter eggs, diving rings or diving sticks for pools, kids beach tools, plastic shovel, rake bucket, plastic Frisbee's ,vinyl bath tub toys for toddlers like rubber duckies and fish, army men,
braid some fleece and a braid a bracelet into the braid
drinking straws, curl them with a pecnil sharpener if you want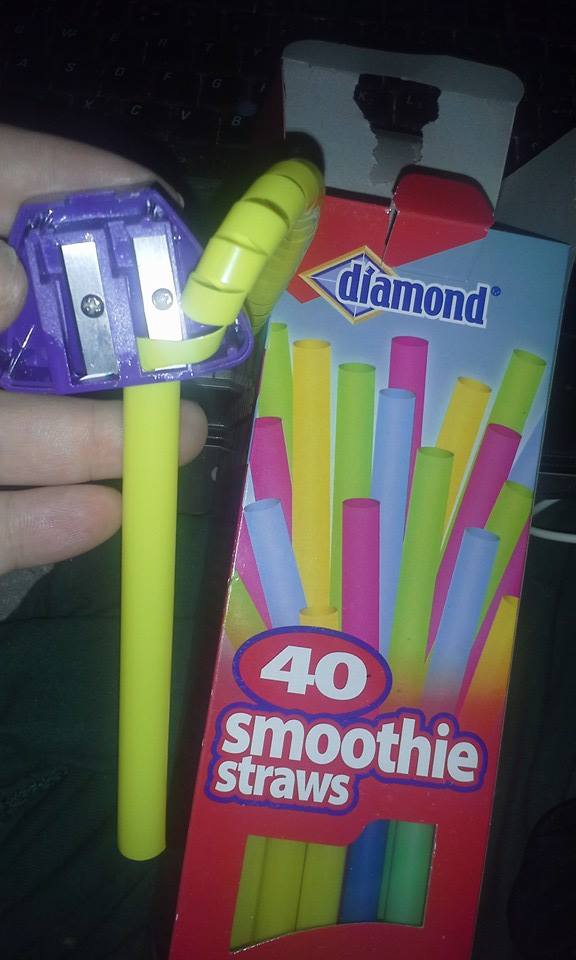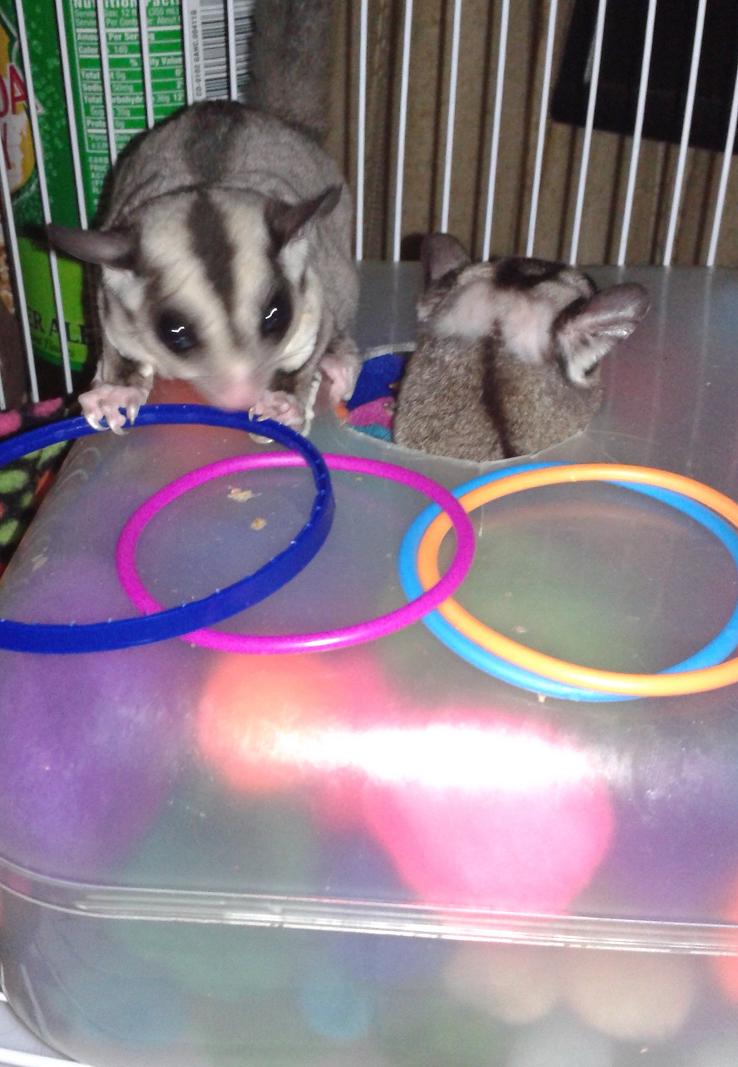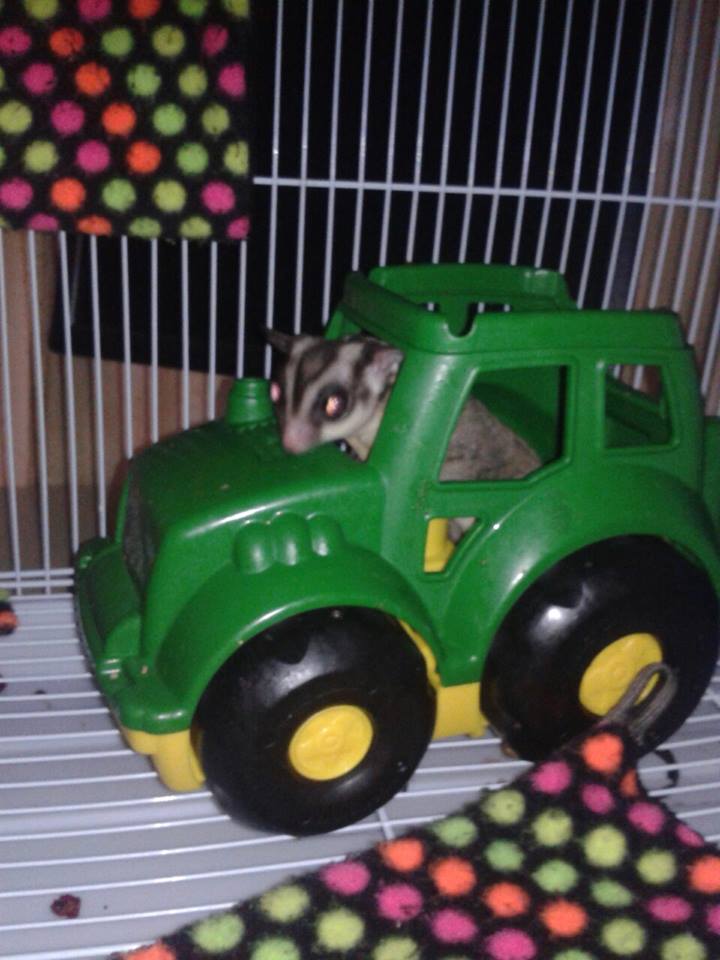 Wow, thanks! I'm going to keep putting him in the bonding pouch while I'm home. I'm just curious, when you said I'm gonna have to ' work with him a lot more' what exactly did you mean? Anyway, i think I can definitely find some of those things around my house, so I'm definitely going to be trying to make more things for them. Thanks again and have a nice day!
what I meant is gliders that bite like that take more time, and alternative ways of handling them.
As I sit here typing this I have 2 gliders in my sleeve that like to nip. The nips aren't hard nor ever draw blood but they are on very tender parts of the arm. When I first let them go in my sleeve they are ok, a few min later they start nipping and I remove them from my sleeve.
I put on a baggy long sleeve sweatshirt over it the long sleeve shirt. When the gliders enter they go in the sweatshirt sleeve between the two sleeves and the shirt underneath it separates them from contacting the skin. With these two it's enough to prevent the nipping.
One of the gliders doesn't have toes on his one back foot, so the undershirt also makes him feel more confident that he isn't going to slip off and fall. He can use his other toes and nails to get secure footing on the undershirt.
Gradually over time, I will push the shirt up so some of my arm is exposed by the wrist, which doesn't hurt as much. Little by little, over the next few weeks the bottom sleeve will go farther up my arm, Until they are used to being in contact with my skin. It takes time, maybe months, but eventually they will stop nipping my arm.
For these two gliders the double sleeve is serving another purpose as well. They just had baths for a medical issue, being between two shirts helps them get dry all the way to their skin because clothing fabric wicks moisture away. So it's helping to dry their top side and underside as they move and travel between the shirts. It's also keeping them warm by being on me until they are completely dry.
I've done something similar with a bra pouch with Simon but I'm guessing you don't wear bra's so the sleeve approach is better

Now, I mentioned my vendor friend before. Her and I are discussing making a sleeve that can be worn over any shirt, Just a sleeve that can be used to aid in shirt dwelling and biters.
I live in fla and usually am sitting right in front of the ac so doubling up shirts is no big deal, unless the ac isn't working

which happens.......... so I might make one for myself for these two until the get over the nipping.
Essentially, it's a tube that you wear over a shirt, the length of your arm, at one end elastic to hold it in place and at the wrist end some sort of draw string so you can open it up to let them walk into it then close it to keep them in and secure, like a bonding bag. Once they are used to it you could leave the bottom open like a normal long sleeve.
Look what I found on Ebay