Try water silo's.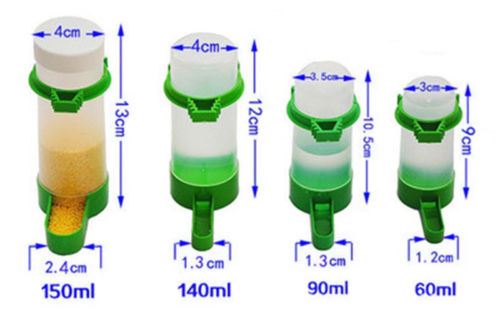 https://www.ebay.com/itm/US-4pc-Set-Pet-Bird-Cage-Water-Drinker-Food-Feeder-Waterer-Clip-For-Aviary-Cage/222917834371?hash=item33e6f03683%3Am%3AmWocdd7NWzrfhyywuUZ-FtQ&var=521740691288&_sacat=0&_nkw=WATER+SILO+BIRD&_from=R40&rt=nc&LH_TitleDesc=0
I have a minimum of 2 and sometimes 3 or 4 of the large water one ( the 2nd one in the picture ) on each cage at different levels (1 high, 1 in the middle and 1 as close to the floor as I can get it ) Which is great in warmer weather, or if one of the gliders ever falls ill and can't climb to get to water.
You get 4 of them for about 4 bucks, which is cheaper than one, small, hard to clean one at pet stores that doesn't hold much water , I use a big bottle brush but you can fit a dish washing scrubber in it too.
its made of durable plastic, no leaks, no ball and tube that can malfunction
( leak a lot or not allow any or enough water out ) no seals where bacteria and slime can build up .
These are reallllllly handy if you ever have a glider in a e collar, you can put food in one ( liquid staple ) and water in the other so the glider always has access to food by itself with the cone on.
I have noticed since switching to these my gliders drink a lot more than they did with traditional water bottles and I don't have to worry if the ball and tube are working properly.
Are you using bottled water or tap water for them ???