Hi, I'm a new sugar glider mom, and I am head-over-heels in love with my two glider babies - Guin, my delicate female glider, and Juno, my rough-and-tumble neutered male. Both have an OOP date ~7/10/18. I did a lot of research before getting them and I feel confident in my setup - Double critter nation cage, 12" silent runner wheel, feeding mix of fresh fruits & veg (no citrus), exotic nutrition HPW, glideraid, joey food, & yogurt drops/fruit for treats. I have a big water bottle and a tub of water for bathing.
I'm posting because I'm becoming increasingly worried about my little girl glider. I see her drink water and eat, though it's hard for me to tell exactly how much of the different foods she's eating. I started doing tent time with them about a week ago, and at first, she was roaming around and climbing on me, but now (last day or two) she just sits looking spaced out (see photos). I just noticed she's definitely constipated. I have some pumpkin I'll give her, but I am scared by her behavior. I'm posting photos of her posture in the tent. Juno is rip-roaring around, jumping off my head & she barely moves. I've been putting them in a bonding bag daily and holding them close by my heart for an hour or two each evening before tent time. I don't think she is stressed by it (e.g. See photo taken earlier this evening of her looking far from stressed in the pouch while I was petting her.) I want her to be healthy and happy - is this timid behavior and constipation serious? Should I leave her alone for a few days and reduce the handling? I don't grab at them at all - just take their pouch from the cage while they're sleeping and place it in the bonding bag or scarf & then place the bag on the floor of the tent and let them climb out themselves. For the most part, bonding seems to be going well, but I don't understand what is going on with Guin. I notice that she's awake sometimes when Juno is asleep, so I don't think she is being prevented from eating, and they seem to be getting along great. I'm on disability and I truly don't have funds for the vet right now (I spent everything I had on the setup for them), though I'll find some money somehow if I have to. I would be so very grateful for any help at all!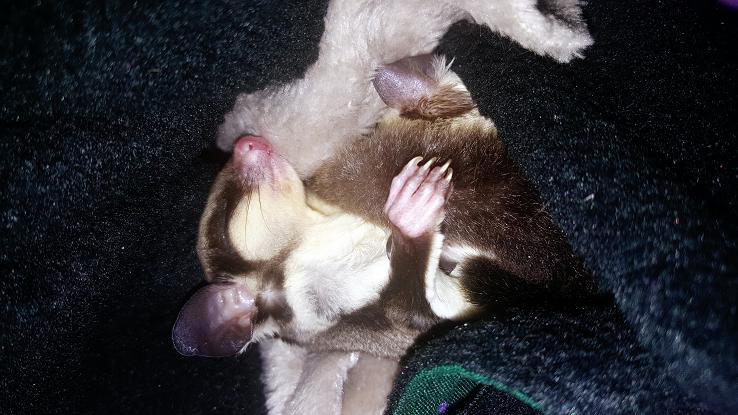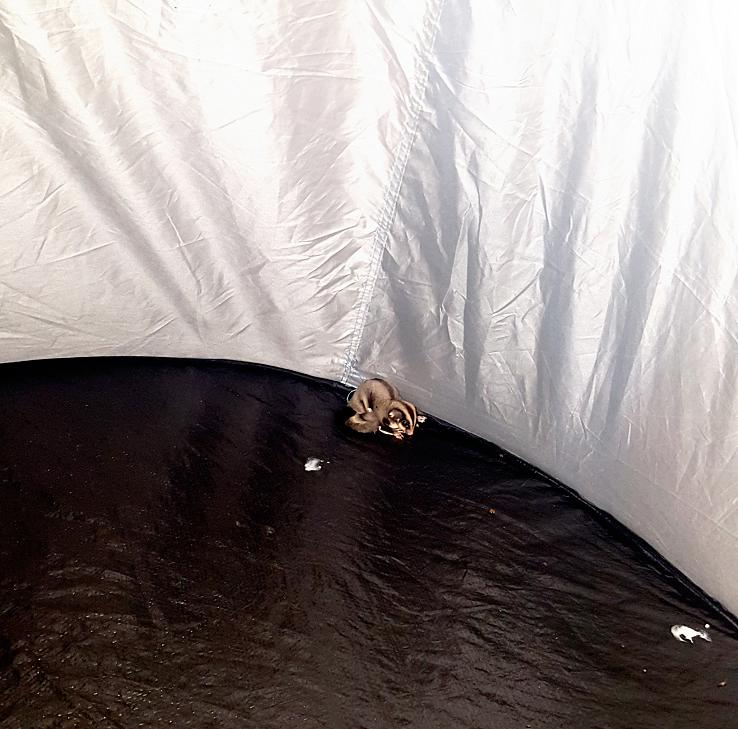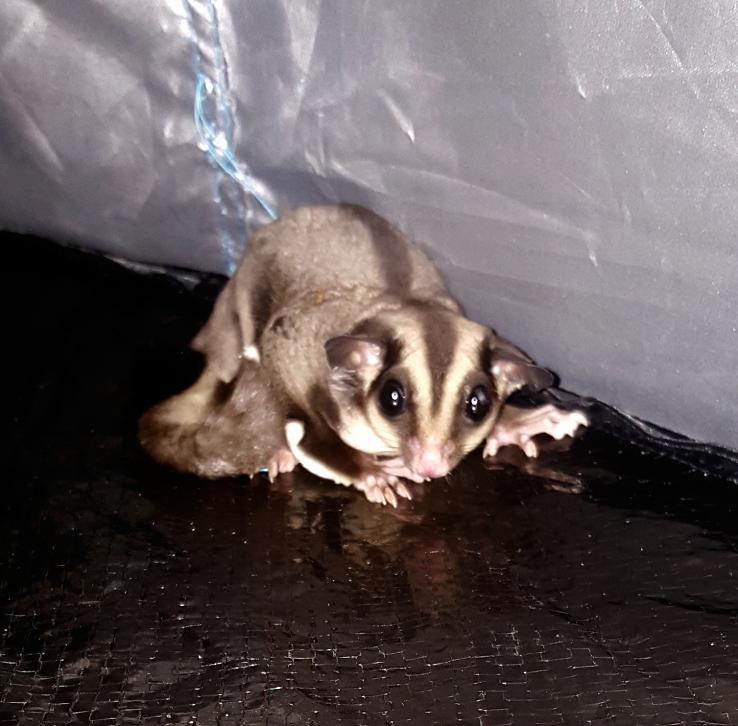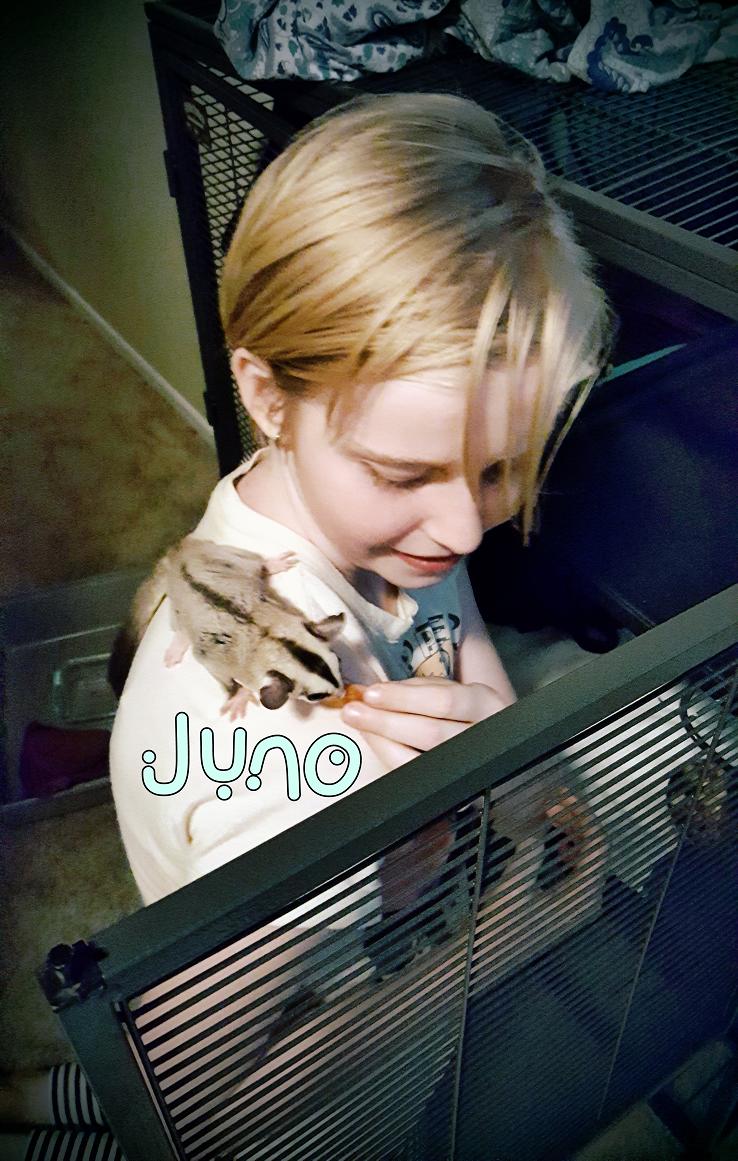 They do not need a tub of water to bath in, they are self groomers like cats.
If she is constipated the best way to address it is to stop feeding what ever food or snack caused it.
Personally I'm not a big fan of any of the exotic nutrition food or snacks, the only thing I recommend from there is the cages. Most of the glider community feels the same way.
I'd suggest either Critter Love hpw or Bml, they don't need glideraid it's better for them to have straight water, they don't need "joey food" (whatever that is) they are old enough to eat normal adult food.
The timid behavior could be "normal"... are the lights on when she's acting timid?
Thank you for your response and feedback, Leela. I was not aware that the exotic nutrition food was not considered to be of good quality. Good to know. The joey food is the exotic nutrition dry food. I don't believe that the formula is especially different, it just has smaller pellets (though the food itself is not in the form of extruded pellets). I do have plenty of fresh, plain water for them and I've seen them drink from the bottle, so I know it works and that they know how to use it. I was told that they needed bathing water, which did strike me ad odd, but I figured it would just be another source of fresh water for them, so there wasn't really much harm either way.
The problem with the constipation is that I don't know exactly what food is causing it. I provide multiple sources of fluids, protein, and fresh fruits and vegetables daily. Could it be a problem with the lactose in the yogurt they get occasionally? Adding to the mystery is that my male glider is on the exact same diet, and he is absolutely fine.
To answer your question with respect to the timid behavior, the lights are extremely dim, pretty much all the time, but there was a flash on the camera (otherwise it would be nearly impossible to capture her position with the available lighting). I am changing up the foods (simplifying the variety of produce) in the hopes of solving the constipation issue. I just feel really worried because she had been more adventurous and her behavior changed. I imagine that the constipation isn't making her feel very good, so it's likely the culprit. I'm hoping that if I can get that under control, she will get back to normal. I wasn't sure if I should put a pause on tent time or holding them in the bonding bag for a while. I just want her to trust and bond with me, so I don't want to make any huge mistakes. There's so much varied information out there and it's hard to know what's best sometimes.
quote:

---

I was told that they needed bathing water, which did strike me ad odd, but I figured it would just be another source of fresh water for them, so there wasn't really much harm either way.

---
No harm, depending on the size of the bowl, gliders can not swim.
I would keep the lights low in tent time, I would also give them a place to (hang out)? maybe a kids toy, castle or house or boat. or even a piece of fleece, you can always lift up a corner see their head and talk to them, give them a pet.
during my glider room time, they play for about 30 minutes, then 2 go back in sleeping pouch quickly, then 2 more get back in pouch, usually only one or two will stay out, then last night after an hour of them hiding, at the end of my movie, they all came back out again.
Just wanted to update. The pumpkin-applesauce mix really did the trick for Guin's constipation. She seems to be feeling much better. She is still more shy than my other glider, but I'm shy too, so I understand. I really value the input I received and wanted to thank Leela and BYK_chainsaw for your help.