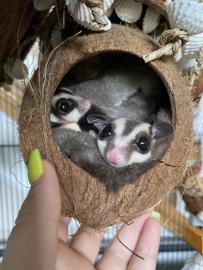 My sugar glider ever since I got her something seemed really off about her. She is super slow when it comes to like moving around, she isnt fast and spazzy like my other glider.

For a while I thought she was maybe blind honestly, because I catch her looking and staring off into space or looking around after I give her a treat. But sometimes she also knows where I am.

A lot of the times when I pick her up she has an issue with biting me but she doesnt do it fast she does it really slowly as if trying to see what is holding her.

Either she is partially blind or mentally impaired in one way, I've attached a photo of her to see if you guys can kinda tell somehow? This is a very interesting case and information. Can I get some opinions and advice?

Lately I've been letting her lick yogurt off of my finger and then simultaneously petting her so she knows that its specifically me that is giving her the treat in the event that she is blind, it is an exercise we do to try and stop her from biting me (the biting started far before I started the yogurt experiment)

Thanks!
Look what I found on Ebay