Housing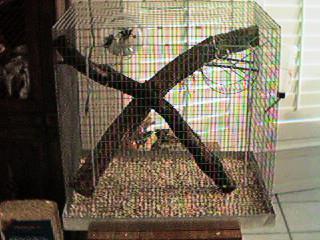 Large wood branches for the sugar gliders to climb on.

In nature sugargliders are tree-dwelling animals, meaning that they sleep in small safe places but need large amounts of room to be active in. These animals are able to leap from treetop to treetop and can hold onto and climb almost anything. Their eyesight is keen enough to be able to see far distances and judge whether they can make a jump or not. Typical off-the-shelf cages are not designed well enough or large enough to house these animals. They need enough open air space to be able to run around freely and jump and climb. It is a bad idea to keep a glider in anything resembling a hamster cage or aquarium. Also, clear glass or plastic atrium type cages are bad in that they do not allow for ventilation and the animal might try to leap through the glass and injure itself. A good cage design for a pair of animals would be an aviary with walls at least 24"x24"x24" made from small enough mesh material that the animals cannot escape. My cage was made by a man selling animals at a local flea market. I got it as big as he could bend the metal pieces. The main feature of this cage design is the sheet-metal pan underneath. I am able to completely remove the pan from the cage, dump the litter and clean the pan, and replace it refreshed without removing the animals.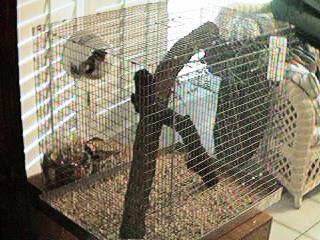 The pan at the bottom has a wire mesh over it to keep the gliders out of the droppings and pine shavings.

You will notice that I have made their nest out of a plastic ice-cream container. My animals seem to not like bedding of any kind and are much better off cuddling together to keep warm. It is wise to make the nest out of plastic so it will not soak up waste, is easy to clean, is removable from the cage, is openable to get to the animals, and allows viewing. I also strongly recommend an oversized exercise wheel. Make sure it is large enough that they wont get their tales caught while running. Sugargliders are active animals and it is very important that they have exercise as well as something to do to keep busy. It is fun to put the animals in a plastic hamster exercise ball and let them run around the house. Wooden logs in the cage look nice and also give the animals something to climb on and jump to. My animals hardly ever go to the floor of the cage; I can usually find them hanging from the top by their legs and eating a pecan. For water, use a small animal water bottle hanging on the outside of the cage. Food can be given in small animal bowls or hanging bird feeders. They will need cleaning after every feeding. Cage Cleaning
Search for Housing on all of Sugarglider.com.