The leaves are changing, fall is happening all around us and winter is just within reach. It is time to reflect on 2008 and what it has meant to all of us. To celebrate and remember 2008, we are releasing a first ever ornament to help support our community here at sugarglider.com. If successful this year, we plan to follow with one special community ornament every year which should essentially make these a rare collectors series as they will only be produced once each year and never again.
The 2008 sugar glider ornament is crafted from a smooth alder wood hardwood panel. The ornament is laser etched and cut with a vertical grain and each is unique as the natural grain and other variations affect the individual output. Great effort was put into making the branch appear realistic while having the animal still stand out in this multi-layered design. The textured artwork appears to change slightly as it responds to varying light conditions and shadow play. The ornament is 5" tall and is suitable for displaying on a small photo stand or hanging from the ribbon which is included in the package. Each ornament is packaged in a cotton filled foil gift box and will be shipped first class inside of a bubble padded mailer.
About the Artist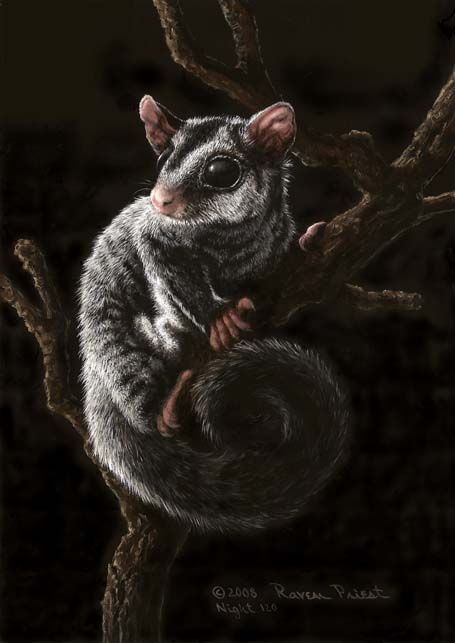 The original artwork is titled "Little Charmer, Little Devil", and is a 5" x 7" oil painting done by our own "Dizzysmom" aka Raven Priest who is a Nationally-known, award-winning wildlife artist. Please do visit her website for more information about her and her amazing work. www.ravenpriest.com
And here is some additional fun background on our resident artist: 1, 2, 3, 4, 5,
* photo stand shown in images is not included
This ornament has the option for "DATE ONLY" if you do not wish to have "Sugarglider.com" inscribed on it.


The ornament collection can be found here.
2011
2010
2009
2008
Also check out:
Keyfob
Night Light

Mouse over to pause slideshow, click to enlarge.