Note: You must be registered in order to post a reply.
To register, click here. Registration is FREE!

T O P I C R E V I E W
Mollysmom
Posted - Nov 22 2009 : 03:37:40 PM
---
I just ordered three new Avian Intelligence cage and a little transport cage from Bird.com for Molly and the crew!

Those cheaper old cages are starting to look awful sorry at this point, and are starting to rust. There goes a big chunk of my first paycheck from the new job I'm starting soon.

Has anyone tried to connect these cages side to side, like I have my cheaper cages: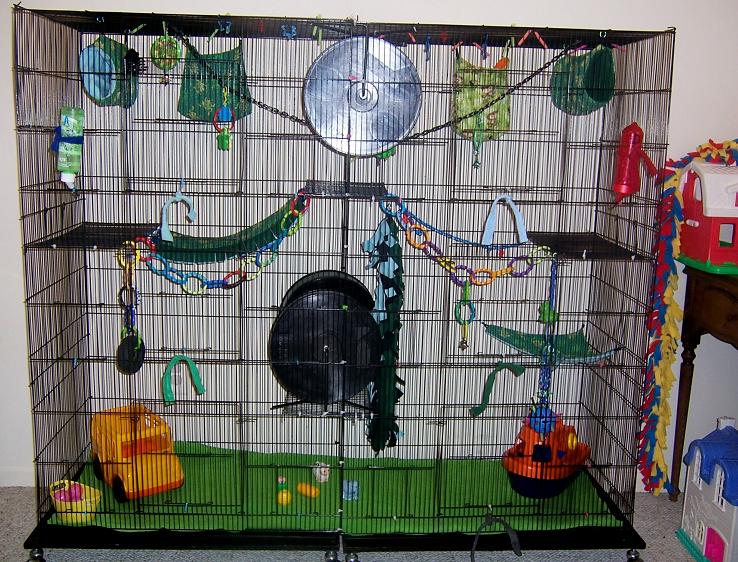 I'd really like to do it like this if I can, so I can roll cages into the hallway during playtime. Unfortunately, all ten that are upstairs in the glider room right now do not play well together! Since there's so much testosterone (although all but one of the guys are neutered), I don't know that they ever will. Anyhow, if I have to hook the cages together back to back, I won't be able to get them through the glider room door.

7 L A T E S T R E P L I E S (Newest First)
Mollysmom

Posted - Nov 28 2009 : 11:47:36 PM
---

I spent a lot of time today deciding how to configure the cages. I have a shorter Avian Intelligence cage in green...at least I think it's an AI cage. Anyhow, IMHO, that cage by itself is too little for any gliders. So, I took the older, smaller green cage, and made a long landware mesh tunnel (oooooooodles of zippies!) and connected the two cages via the little side doors. The two connected cages and tunnel take up one whole wall of the glider room. Molly's colony LOVES it! We didn't even end up having out of cage time tonight, because they were so busy exploring their new digs! It was a blast watching them checking everything out. I didn't get any pictures yet, because it was too dark. I'll get some soon.

I was temporarily regretting having spent the money on these new cages right before Christmas. Now, I absolutely do not have any misgivings about having done this! Seeing the excitement and joy in the gliders' eyes is priceless.
snusie

Posted - Nov 25 2009 : 02:26:42 PM
---



We can't wait either, just to see what you do with them! Congratulations!!!
Mollysmom

Posted - Nov 25 2009 : 10:12:14 AM
---

Yipee Kie Aye!!!

My order just got here...I think there may have been flames shooting off the back of the boxes, they got here so fast!



I'll get some pics posted once I get the cages together. I've got a ton to do before I can get to the cages, so it may be awhile. Molly's gonna be so happy!

Mollysmom

Posted - Nov 23 2009 : 11:47:09 AM
---

Thanks, but these are my old cages. The new cages we're getting are like this: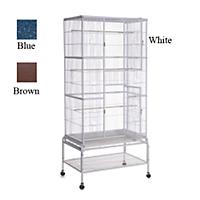 I'm really excited! I am trying to hurry to get all my orders caught up, so I can make some new Christmas cage sets for Molly and the gang, before I start my new job next Monday!

best_friendz2

Posted - Nov 23 2009 : 10:32:56 AM
---
(That little doll house on the right of the cage) IO have the same one my gliders love it! Lol sorry a little off topic. I love what you did with the cage! They are one lucky group.
Mollysmom

Posted - Nov 23 2009 : 08:10:08 AM
---
Thanks! I think I may end up moving the babies to the living room soon, anyhow, as my son has been living with us again for the past couple of months. He seems to prefer living in the basement, but he's just sort of living out in the open down here...which is pretty messy! LOL! I hate to give up the glider room, but I do have a nice Genji tent and three bathrooms. I think I can make another play area for the babies!

If I have the cages in the living room, I may end up connecting the cages back to back, as I've seen some folks do the the Excel Tower cages. This still gives the suggies a nice, big living area, just a different configuration. I'm not happy about how far out from the wall the cages would extend in that configuration, but I may not have a choice. I'd prefer not to destroy the stands, which is what I'm afraid I might have to do to set the cages up in the configuration above.

snusie

Posted - Nov 23 2009 : 05:20:29 AM
---
From the picture on Bird.com, if it's the Aviantelligence Tall Flight Cage, it looks like there are screws holding the side panels on. If so, then it should be simple enough to take those panels out and zip-tie the cages together, like I see in your photo. The only issue I see is that the stands are wider than the cages, so you'll have to figure out a way to close the gap -- or do something about the stands. They also have screws on the sides, but without seeing them "in person" I can't say whether you can remove the upper bar only, or how you may be able to safely modify the setup to make one wide cage. When you figure something out, please let us know. Good luck!