T O P I C R E V I E W
LuckyGlider
Posted - Sep 03 2013 : 08:36:01 AM
---

Lucky Glider Rescue & Sanctuary (LGRS) is pleased to announce its 32nd Open House!

This event will be held at "Lucky Glider Ranch" in Van Alstyne TX on Saturday, October 12th, 2013. The event will start at Noon and wrap-up around 6 PM. We will be serving food and refreshments as usual.

RSVP here: www.meetup.com/luckygliderrescue/events/138001432/

You can also RSVP by sending an email to rescue@luckyglider.org

Families with children are encouraged to attend!

The purpose of the event is to promote sugar glider rescue and community outreach on behalf of sugar glider welfare. We will provide a tour of the facility.

ACTIVITIES WILL INCLUDE:

- An all-day stop-and-start raffle. Proceeds benefit non-profit rescue organizations including LGERS. Raffle tickets are $1.00 each and can be purchased on site or ahead of time via PayPal using the donations@luckyglider.org email address for payment. (You do not have to be here to win)

- Games for adults and kids including "glider bingo"

- For the kids and the kids in all of us - Visits to the barnyard (pet goats, donkeys, sheep, llama)

- Glider nail cutting demonstration

- Meet other glider enthusiasts & learn tips about gliders

- See adoptable pets if you are interested in adopting

LGRS is a 501C3 public charity. As such any non-raffle donations made to LGRS are tax deductible. If you want to make a donation at any time you can PayPal donations to donations@luckyglider.org

Spread the word!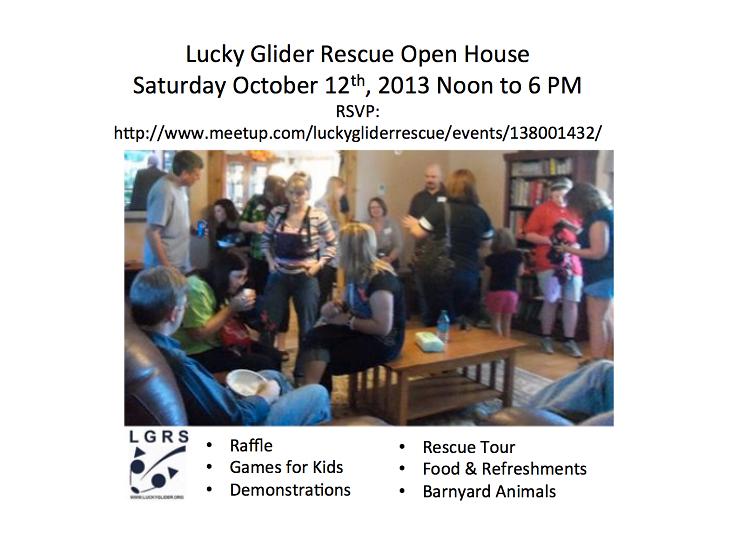 3 L A T E S T R E P L I E S (Newest First)
Cora1

Posted - Oct 06 2013 : 09:39:21 PM
---

Its getting closer, yayayay Dont forget to buy raffle tickets and please donate if you can. Some proceeds will be going to Mary at the glidertree in Houston that took in a glider who will need a genitalia amputation(extensive) and neuter tomorrow. Please also keep him and his little family in your thoughts/prayers. Thank you so much!
Cora1

Posted - Sep 28 2013 : 10:01:20 AM
---
2 More WEEKS WHOOP WHOOP


If you would like to promote your items/goods please donate to the raffle which benefits the rescue! cash donations are deductable as they are a 5013c.

Cora1

Posted - Sep 15 2013 : 12:02:42 PM
---

Oh Yea coming soon!!!!!!! Its a great time, this rescue has lots of gliders but also some very other interesting fun animals too!! I have not fed the donkeys before , maybe I wil do that this time!! Cant wait to see everyone!!!

Don't forget to get your raffle tickets!!!!!!