Note: You must be registered in order to post a reply.
To register, click here. Registration is FREE!

T O P I C R E V I E W
LuckyGlider
Posted - Feb 25 2014 : 11:21:17 AM
---
Spring Fling...It's A Glider Thingy (LGRS Open House)
Saturday, May 10, 2014 12:00 PM - 6:00 PM
@ Lucky Glider Rescue & Sanctuary
---
GLIDE INTO SPRING LIKE A SUGGIE



- FUN Raffles (Yahoo I WON!)



- Family Friendly (bring the kids)



- So Many Friends to Visit With (Like, Just About All of 'Em)



- Glider Rescue Tour

- Nail Trimming Demo

- Some mystery vendors

Check out the Ranch Critters:

Friendly Goats, Chickens, Frisky Donkeys, Shy Sheep & Harvey the Llama

Lunch Served at 1:00 pm. Plus other tasty goodies...yum yum

RSVP HERE:
http://www.meetup.com/luckygliderrescue/events/168199692/


Directions:

Off the 75 in Van Alstyne, Van Alstyne, TX

Traveling from Dallas area - take 75 North, Exit 51. Go LEFT at light, Van Alstyne Pkwy. Go under 75. First light, go RIGHT on to frontage road. Continue 2 miles. Turn LEFT onto Bear Rd. 322 Bear Rd. is second property on the left. You will see farm house, red barn, loafing sheds, etc.

Traveling from Texoma area - take 75 South, Exit 52 (Farmington Rd. Exit). Stop at sign and continue South on frontage road. Pass Cowboy Club on right, pass car lot, about a mile on right is Bear Rd. Turn Right onto Bear Rd. 322 Bear Rd. is second property on the left. You will see farm house, red barn, loafing sheds, etc.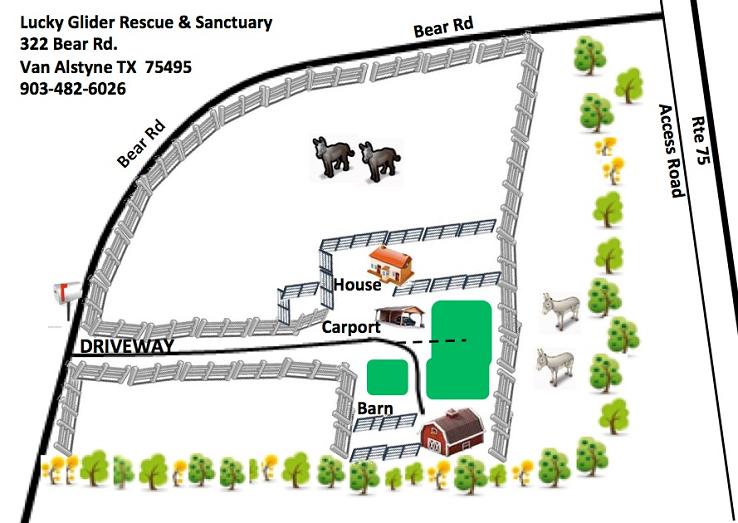 3 L A T E S T R E P L I E S (Newest First)
Cora1

Posted - May 07 2014 : 09:55:36 AM
---
3 more days !!! Getting very excited!!!
Cora1

Posted - May 03 2014 : 10:30:45 PM
---

1 more week to gooooooooooooooooooo
Cora1

Posted - Apr 27 2014 : 11:07:47 AM
---
This is coming up soon!!!! I encourage all new and old timer vendors to donate to this event for raffle. They don't only rescue Sugar Gliders, They rescue all kinds of farm animals. Tons of vet bills. LGRS is a 5013c and you can buy raffle tickets online whether you are going or not. Twice a year they open their homes to all of us and we gladly donate and support them. It also is a fundraiser for their rescue, many times they share with other rescues.If you plan to attend please RSVP at the meet up site in the link above. Ed and Gail do awesome work! This is an all family event, please dont leave your children unattended. If you can come you should, it is an open house you should attend at least once, bet you will get hooked!