T O P I C R E V I E W
denparkin
Posted - Jan 02 2015 : 03:32:35 PM
---
So I decided (with a little prompting) that I should do a review of the Critter Nation Model 162 Cage since I had such a hard time finding an appropriate and cost effective cage in Ontario Canada (shipping is crazy expensive).
When I was researching the Critter Nation Cage, there were two main drawbacks I read about. The first drawback was that the cage is divided in half with just a small opening between the levels (you see this in all the manufacturer pictures). This would essentially cut gliding space in half. The second drawback was that the drop tray doesn't have a grate above it so the gliders will walk in their own waste.
I'm happy to report that both these issues can be rectified. You do not have to put the shelf in the middle when you build the cage, and if you want the drop tray under the grate all you have to do is tie wrap the middle shelf (that you didn't use) to the bars on the bottom. My pictures below may explain this better.

What I also like about this cage is that with all four doors open, cleaning inside is an absolute breeze. I also like the fact that the bars are horizontal for climbing, it's on wheels for easy movement, and there is a shelf for storage. Another cool fact about this cage is that you can add another level and make the cage 2 ft taller!

Hope this may help someone else out who Is researching this cage in the future!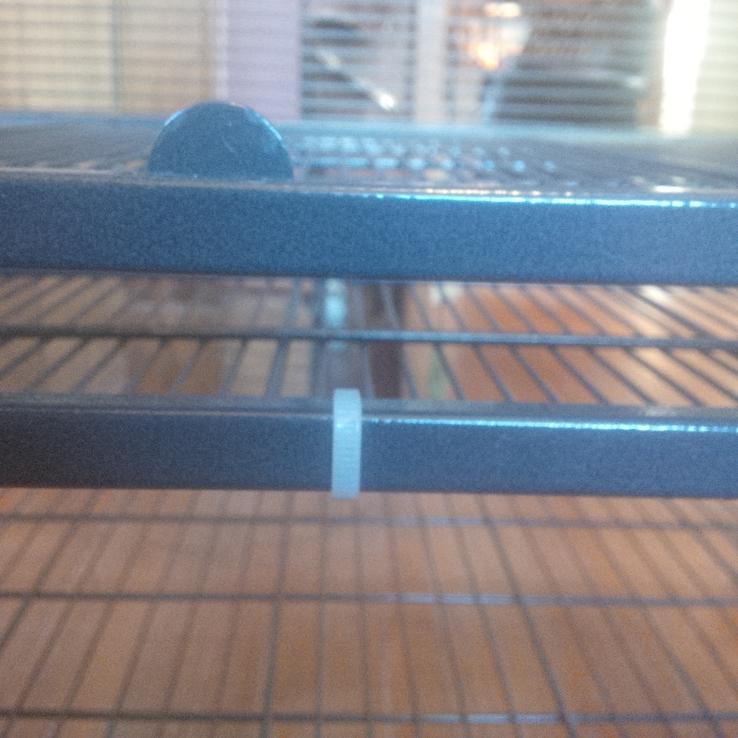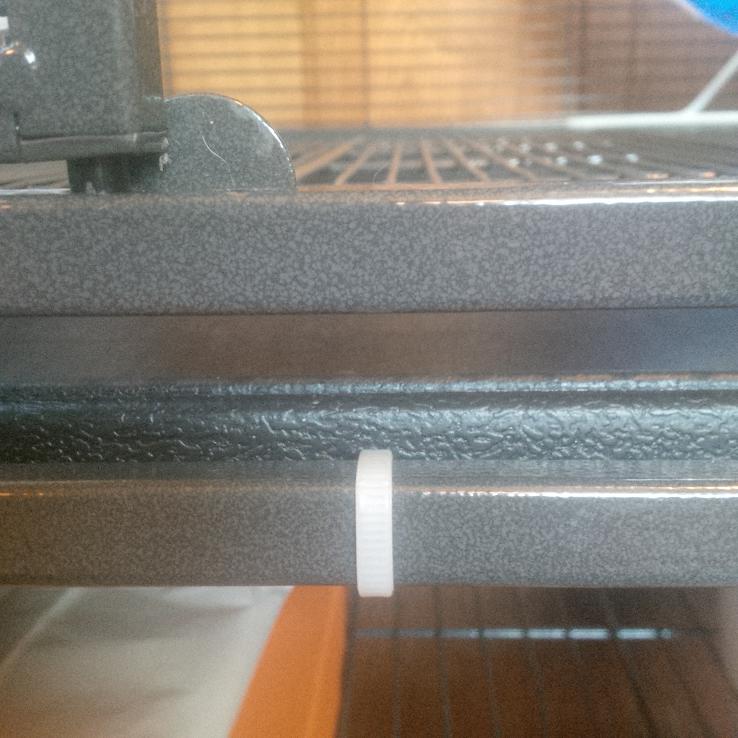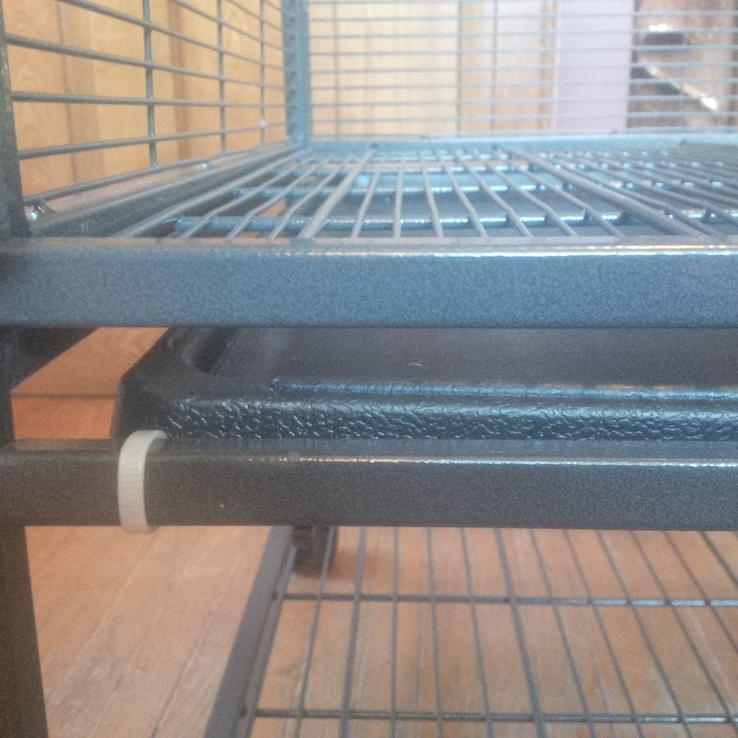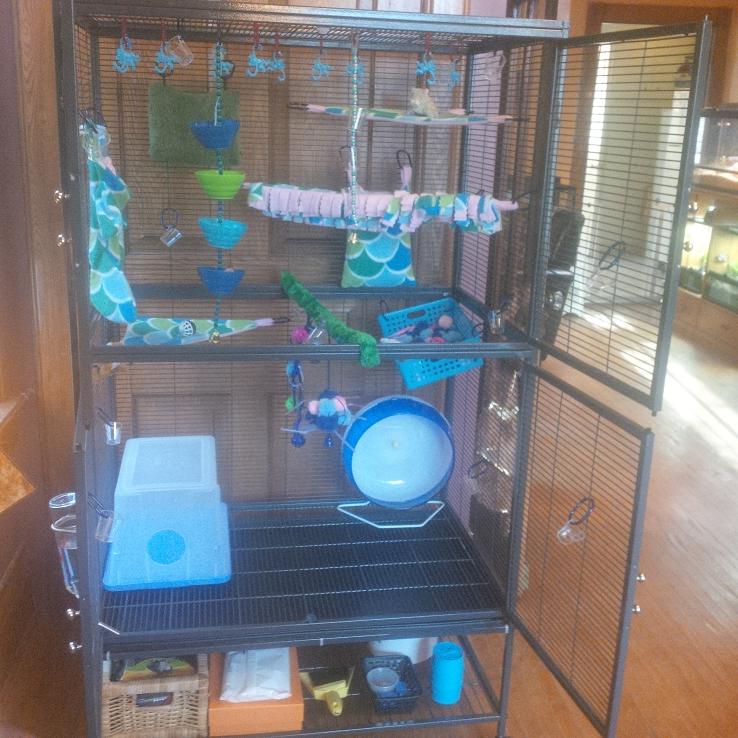 29 L A T E S T R E P L I E S (Newest First)
Petarus brevicapus fan

Posted - Jul 11 2020 : 02:58:06 PM
---
quote:

---

Originally posted by Jackgsd

Will the critter nation cage work for new borns? I have the critter nation and just found out my female is pregnant. I am worried the new Joey can get out of the cage when he/she comes out of the pouch... Any suggestions?


---


Is it possible to block the sides with some fabric? Maybe a fleece on one or two sides and something seathrough on the other(s)? Do not know what though..
But not sure, just what I would try!

SORRY ABOUT KINDA FLOODING THIS AND PUTTING TO COMMENTS IN A ROW, I TRIED TO FIND A DIFFERENT SOLUTION BUT COULD'NT! Please be understanding..



Petarus brevicapus fan

Posted - Jul 11 2020 : 02:25:39 PM
---
So good that you shared this!! But can you join several critternationcages togheter? Just curious.



It seems so boring to live in a cage... If gliders where legal here I would definatily get some and give them the biggest cage I can clean!! And with a fake moon (any reviews on these? Are they as good as I think?) and lots of pouches and ropes.
JHoldsworth

Posted - Jul 07 2020 : 07:53:15 PM
---
Oh my god, you're my hero! I've been trying to figure out a way to add in a drop tray for the last month! I'm doing a full clean tomorrow and I'm going to give this a try. The lack of drop tray is the only thing I don't like about the critter nation cage. I've been using a small dust on every day to clean up after them in the mornings, and this is going to make morning clean up so much easier!
Jackgsd

Posted - Jul 07 2020 : 01:04:38 AM
---
Will the critter nation cage work for new borns? I have the critter nation and just found out my female is pregnant. I am worried the new Joey can get out of the cage when he/she comes out of the pouch... Any suggestions?
Leela

Posted - Aug 14 2016 : 10:41:38 PM
---
Congrats, and no it's not necessary to use mesh on a critter nation onless it's a ferret nation in which case the bar spacing is the issue not the horizontal versus vertical.

Gliders, even joeys will adapt to the bars no matter what direction they are going in. Make sure the gap between the bar spacing is no bigger than a 1/2 inch. IF they are bigger than a 1/2 inch then yes you would need to secure the cage with hardware mesh, zip tied to the INSIDE of the cage to prevent the gliders from being trapped between the wire and mesh. If that is required, you'll want to ziptie about every 2nd square so there is no gap bigger than a 1/2 inch that they can squeeze through.


Cori224

Posted - Aug 14 2016 : 04:20:41 PM
---
I'm getting 2 babies very soon so I'm setting up their cage. I already have a critter nation. I was under the impression that babies need to have more horizontal bars to hold on to, so I was planning on wrapping it with landware cloth. But after reading this thread I'm wondering if it's even necessary. Thoughts?
denparkin

Posted - Feb 24 2015 : 06:44:52 PM
---
vzo9

Posted - Feb 24 2015 : 05:33:31 PM
---
Denparkin, what is the size of the cage minus the stand? In other words, what are the dimensions of the space the gliders can use? Thanks in advance.
Candy

Posted - Feb 15 2015 : 08:56:16 AM
---
If some of the Canadian folks near this pet store contacted them and requested that they carry one (or more) of the Glider wheels - such as the Stealth or Fast-Track it might make these safe wheels more affordable for Canadian Glider owners. Wheels could be shipped in bulk, by truck for lower shipping cost than individual owners/buyers pay when ordering.


dogsnbears

Posted - Feb 14 2015 : 11:25:13 PM
---
Flower Town Chinchillas sells the Critter Nation and you can pick it up to save on shipping if you live close enough (Brampton) They also sell metal trays for them.
denparkin

Posted - Feb 10 2015 : 02:21:36 PM
---
Ya, I noticed the price on Amazon went up substantially! I paid $300 for mine. I would definitely check kijiji as well. I often see them for $150-$200.
I would go with the Petsmart one personally. If you look at the pictures IndyColtsFan posted it looks exactly the same.
MissKitty

Posted - Feb 10 2015 : 01:48:09 PM
---
When you bought your cage on amazon.ca did you get it cheaper then $450? Thats what they are selling them at now on there. Thats expensive! The one at Petsmart is only $229. Much better price.

Leela

Posted - Feb 10 2015 : 12:14:13 PM
---
quote:

---

-I don't recommend using a lid without a gasket and using zip-ties to hold the wheel together. Zip ties can be chewed so you would have to be constantly checking the wheel to make sure it won't fall apart. Also, if the mesh has to be replaced, it will be more difficult and it would take longer since you would have to cut all those zip-ties and tie them again.

---
from https://tsugielove.wordpress.com/2015/01/12/diy-sugar-glider-wheel-web-version/

The "danger" is about chewing, Denparkin already knows her gliders chewd the gasket out of other wheels, so naturally she will pay attention to the zip ties. The only other issue is having to replace the track at some point. If she is willing to do that or make another whole new wheel that's really up to her.

Considering how bad shipping is to Canada I would have done the same thing

I've seen nothing else online about any issues with zip ties being used on wheels. No toe or nail injuries or anything.

Personally I think Denparkin did an awesome job

denparkin

Posted - Feb 10 2015 : 11:46:58 AM
---
I made the wheels actually. I ended up using zip ties because my gliders kept pulling out and chewing the gaskets.
MissKitty

Posted - Feb 10 2015 : 11:37:19 AM
---
Denparkin - are those raptor wheels? I have the wodent wheel but was thinking of getting the raptor wheel. I heard the raptor wheel has a track that trims their nails too but doesn't irritate their paw pads if left in too long the way the wodent wheel can. where did you buy your wheel? i want a pink one for my girls :)
denparkin

Posted - Feb 10 2015 : 10:56:00 AM
---
Tsugie, if you want to pay me $70 to cover the cost of shipping two wheels without zip ties to Canada, that would be fantastic. Otherwise I've made the wheel as safe as I can. It is a far cry better than the silent spinner I was using. We all do the best we can with the means that we have for our gliders. I could find no anecdotal evidence of sugar gliders being hurt by zip ties anywhere on the internet, and it's not like I don't check the wheel for damage every day. Do you have actual experience with zip ties being unsafe, or you just spewing out regurgitated information with no evidence?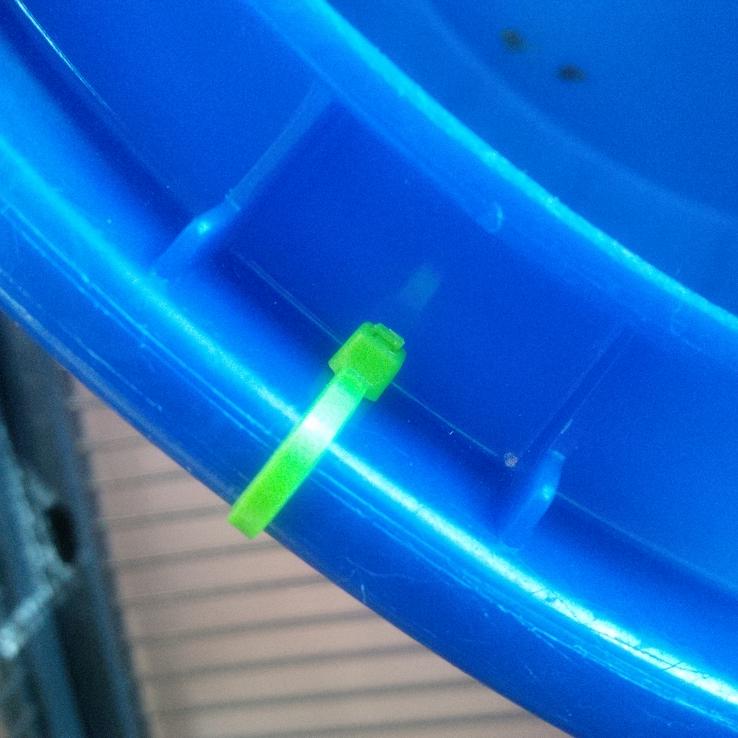 MissKitty

Posted - Feb 10 2015 : 10:40:26 AM
---
Awesome! I am getting this cage! Thanks so much for posting pics and the pros and cons, but with a little tweaking those cons can be modified. Im printing this off so I can set it up the same way you have yours :)

So the one on Amazon.ca by Critter Nation is the exact same cage sold at Pets Smart only under the name All Living Things? No differences? Ill have a look at the link you posted.

Oh and awhile back I was asking about where to buy the Original HPW and how the shipping was crazy expensive to Canada. I saw your post in my thread asking if I found cheaper shipping to let you know. I posted a reply there but not sure if you noticed or not. I bought mine from Karen at the Pampered Glider and she gave me cheaper shipping options. She shipped it First Class for $20.00 and it took less then a week to get to me which was amazing! Didnt take long at all. Much better shipping price then what was originally quoted $58 for Priority mail.
tsugie

Posted - Feb 10 2015 : 10:33:36 AM
---
denparkin

Posted - Feb 10 2015 : 10:18:35 AM
---
I got my Critter Nation cage on sale off Amazon Canada, but I was in Petsmart the other day and they had the same cage re-branded by All Living Things (as IndyColtsFan stated) on sale for $230.

http://www.petsmart.com/supplies/cages/all-living-things-multi-level-small-animal-cage-zid36-21573/cat-36-catid-600022?var_id=36-21573&_t=pfm%3Dsearch

As you can see, the gliders have lots of room!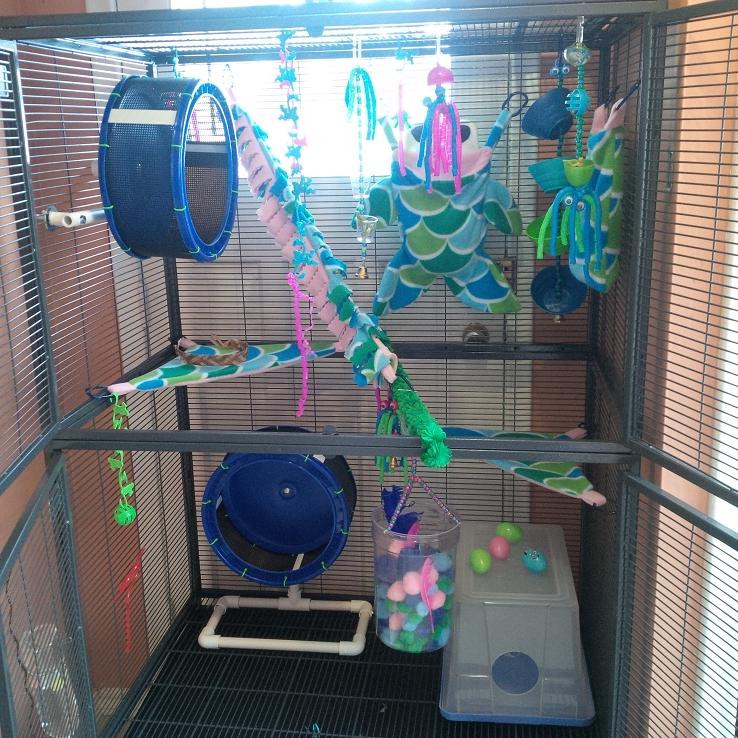 MissKitty

Posted - Feb 10 2015 : 09:53:47 AM
---
Denparkin where did you buy your cage from? I am also in Ontario and am in need of a new cage. The one I have is too small and I want a cage like yours to they have lots of room and can glide freely etc...Did you buy it online or where is this sold? How much was this? I was looking on Exotic Nutrition for cages and the shipping is insane!

Thanks
denparkin

Posted - Feb 09 2015 : 07:27:59 AM
---
It took a while for me to figure out what you meant...So basically I think what you are saying is that when you are building the cage you are turning the stand upside-down so that the attached shelf is higher up. Are you still able to use the wheels then? I think the plastic wheel holders were already assembled. Maybe you can pop them out? I love having the bottom shelf for storage under the cage, so I think I still prefer zip tying the middle shelf to the bars.
Selkie

Posted - Feb 09 2015 : 07:08:56 AM
---
I also have Critter Nation cages and I love them! We did exactly what was suggested in this post with the middle grate and the drop pan. However, someone else had an excellent suggestion for the drop pan as well. He gave up his shelf on the bottom of the cage and simply turned the bottom part of the cage support upside down, putting the wheels in what should have been the top of the cage base and then using the storage shelf as the shelf for the drop pan. I haven't tried that as the zip ties are working to hold up the middle shelf really well. But it is an option if you don't want to mess with the zip ties.
denparkin

Posted - Feb 08 2015 : 09:37:05 PM
---
The cage doesn't come with a shelf to put the drop tray under a grate (you don't want your gliders walking in their waste), so you will need to tie wrap the middle shelf (that you will not use when building) to the bars under the bottom of the cage. The bottom of the cage is now your grate. The tray will slide out easily through the front for daily cleaning. The cage is all one piece and not removable from the stand. It is on wheels though.
meganp1130

Posted - Feb 08 2015 : 09:06:54 PM
---
Hi denparkin! I think I'll be upgrading my suggies cage to the Critter Nation in the next few months, as long as introductions go well with my new babies. Can you explain your setup with the bottom tray a little more? Is the middle shelf inside of the cage or underneath it? Does the cage sit on a removable stand? Can you still slide the tray out for cleaning?
sunRaeTX

Posted - Feb 08 2015 : 05:58:21 PM
---
I have this cage too. My all time favorite. My dream cage :)
IndyColtsFan

Posted - Jan 04 2015 : 06:22:32 PM
---
Same cage, making some adjustments as the original poster suggested. We love this cage. It seems like a mansion for our two gliders. We are still waiting on our wheel to arrive and are still working on getting the right amount of enrichment toys in the cage. So far they seem to love it though.

Their favorite feature so far has to be the ropes. They both love running up and down them, sometimes on the top, sometimes underneath.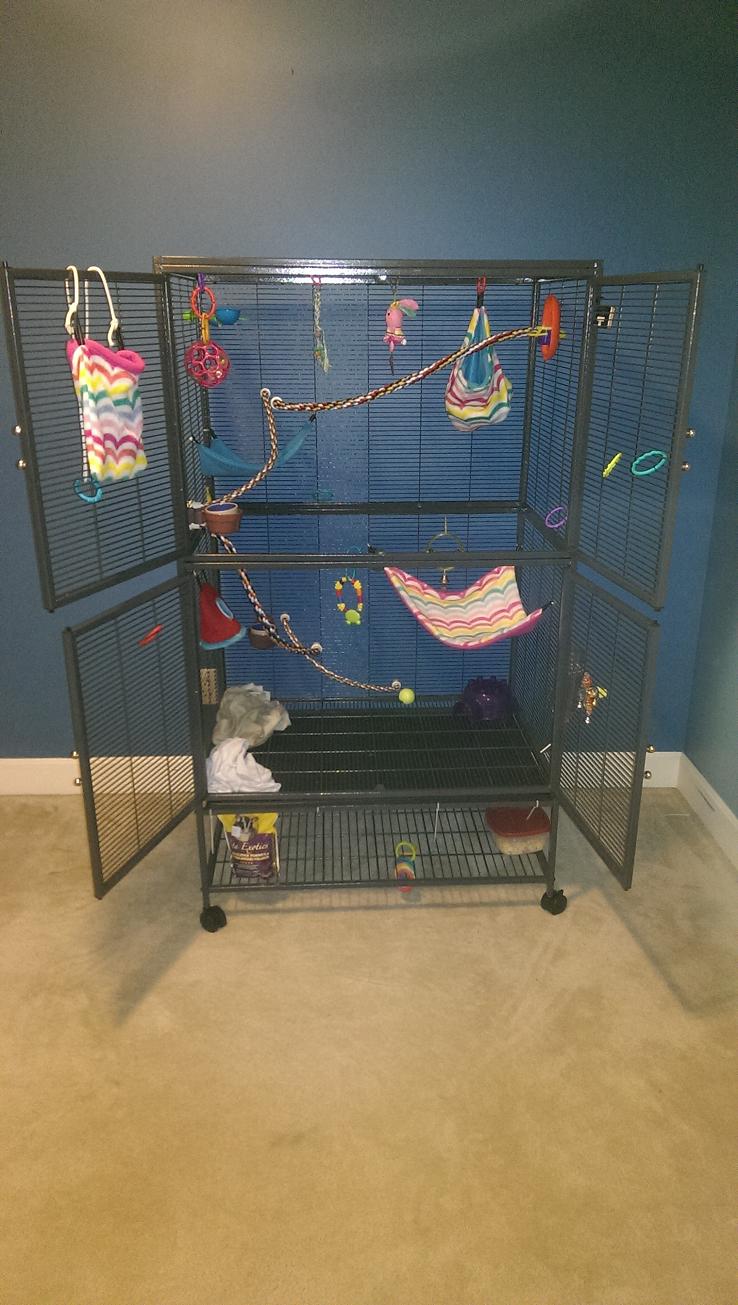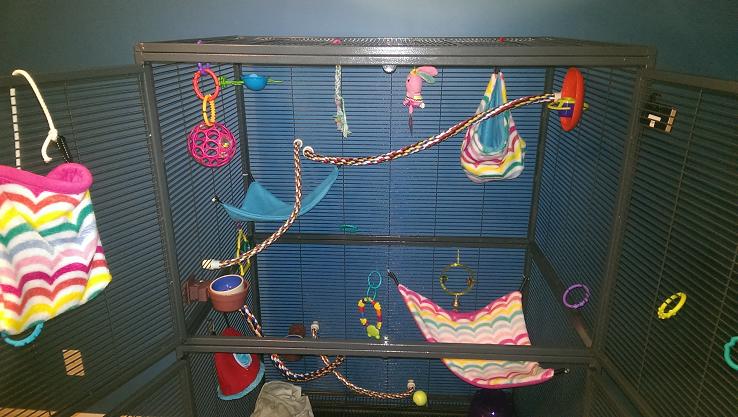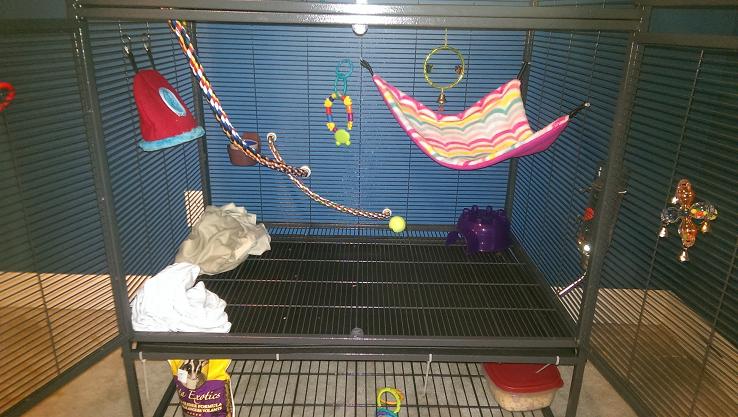 Candy

Posted - Jan 04 2015 : 09:15:35 AM
---
In the wild gliders live in the top of trees and jump and glide huge distances from tree to tree with a body slam landing on a tree trunk. There is little chance of them falling in a cage and being injured.

Gliders have no problem walking on the bottom grate. Other than sitting there to eat from their dinner plate, my gliders do not spend much time low in the cage.

They will appreciate the removal of the middle shelf so they really have room to climb. Most gliders do like a few small shelves (I use corner shelves) or fleece hammocks at various levels in the cage so they can sit up high in the cage an look all around their room. This leaves the center space of the cage open for jumping - cages do not have quite enough room for real gliding.

It may take your gliders a day or two to adjust to any changes in their cage but they will soon learn to explore the cage anytime you move things around. I actually trade cages between my 3 colonies on cage cleaning day so each group wakes up that night with a whole new arrangement of their ferret tunnels, stealth wheels and hanging toys. They are more active than usual the first night or two of a new cage arrangement.
IndyColtsFan

Posted - Jan 04 2015 : 08:55:45 AM
---
My first post here, I've been lurking for a number of weeks leading up to the addition of our two new girls. When we purchased them they were given to us in a tiny cage you'd keep a parakeet in, which horrified me since my research had shown they really enjoy space.

I opted for this cage as well, but it was sold under a rebranded name of "All Living Things" by PetSmart. What I didnt know was that the middle was optional.

So a couple questions!

1. Do you think taking the middle divider out is a better idea? You sacrifice floor space for gliding space I guess. Is having that space more important for them? My wife is terrified that they might fall and hurt themselves!

2. I love the idea of having the litter tray below, so they arent walking in waste, but are there any concerns with them running across the wire? No risk of accidental injury?

3. They've only had two days in their new cage, and its been a very slow process of them warming up to it. One of the girls refused to leave her pouch the first night I think, she is a very timid one compared to her sister. Will making this change create yet another shock for them? Any suggestions here?

Thanks and I am so glad I found this site! It has been a wealth of great information!

Chad

TJones09

Posted - Jan 02 2015 : 10:07:44 PM
---
I'm glad to see a review on this cage, it's good for those researching cages to see options they have.

Also glad to see how you rectified and posted how the issues that some have concerns with.

I can see it must be so easy to get in there to clean and set up. My cage has fairly large doors, but I still find it awkward getting to all edges and corners while cleaning. I would love those doors!

Your cage looks nice, thanks again for posting review.