The issue: My Suggie; Gili has some kind of pussy bump on her chin. I thought it was an abscess, I was worried it might be a dental abscess.
It drains and refills constantly, but doesn't get any bigger.

-Behavior is the same, happy, playful, very active at night. No behavioral changes.
-Feces and urine are the same. No foul odors, no diarrhea. Solid stools.
-Eyes are bright/clear, ears are up, fur coat is still soft/clean.
-Appetite is the same, she's a hog like always.
-Sleeping patterns are the same.
-Doesn't seem painful, I can touch it and poke at it; she seems unfazed.

Treatment thus far: Two different vets put her on 2 different types of Antibiotics. Amoxicillin was one, and the other was a weird abbreviation. TSB or something like that.
The antibiotics made it shrink a little, but it never went away. Would only refill after the treatment was done. ((I was worried if it was an infection, the antibiotics only made it antibiotic resistant.))

I've changed their toys out, disinfected everything/washed everything. I even bought a brand new cage thinking their old cage might be the culprit.
I had X-rays taken on her, it is not a dental abscess (thank Gods), we had a culture taken on it- there's no bacterial infection found.
He said it looks like it could potentially be a cyst.

I've been cleaning it out and using Witch Hazel to help try and "Dry" it out and help it heal.

Tonight, as I was cleaning it. (I've been using Witch Hazel) I saw it had a "Scab cap" on it, which to me is REASSURING! I cleaned it, the cap came off... There was a little pus, but there was blood. Which tells me it's healing.


My question is- to help clean it. Can I dilute some hydrogen peroxide and use that to clean my sugar glider's wound?
It looks like a big crater right now.

Couple pics below.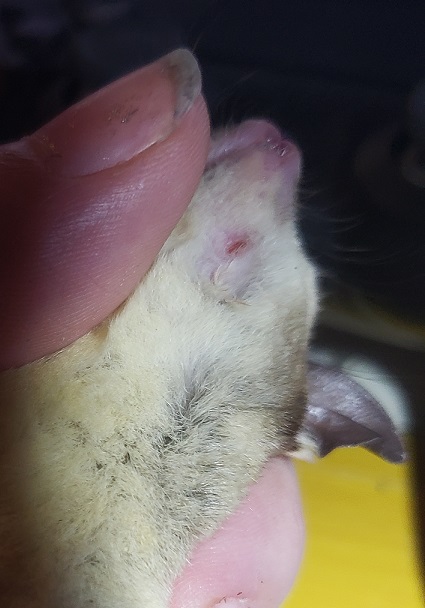 Look what I found on Ebay