Heyho!
I dunno how many of you know about it, but I took Huubert in for neutering on Wednesday, the 6th of February.
The vet I went to, said she had experience in neutering a couple of suggies before, so I was pretty satisfied with finding her. So, I got to stay during the surgery, Huubert got knocked out by the pre sedatives so no gas was included. She opened his sack, took away his valuables and closed him up with one stitch, gave him a shot with painmeds and antibiotics and off home we went.
Once home, I put the still groggy Huubert into a collar I made for him, he fought it with a desperation I've never seen, but he didn't manage to take it off. I then later that evening decided to try and see if the collar was really necessary, but once off the collar Huubert made really strange noises and started picking on the seuter, so I put it back on. At this point I was crying my eyes out because I got scared that he might self mutilate, and that the sound I heard was the SM noise. I stayed up with him all night, calming him down and keeping him hydrated. I went to the doctors to get myself some sickleave at about 10am, at this point Huubert had exhausted himself so bad that he was just sitting in his travel cage. When I came home, I scooped him into my shirt and slept with him through the day, about 5hours or so, and he really did sleep, eyes shut and mouth popping.
Yet another night passed, Huubert was calmer this time, but still fought the collar and looked really pathetic. I was worrying about him self mutilating when I would take the collar off and just feeling sad and sorry for him. But, I happened to talk to Terry and ask his advice yet again, bugging him with hysterical questions, and he suggested I would take the collar off. At this point it was already morning, about 7am. So I took his advice, prepared myself to get the Huubert back into the collar if necessary, and just held my breath when I took the collar off him. To my surprise, the first thing Huubert did, was to start grooming ME. I felt so sorry for him at this point so I just cuddled with him for a bit, then he started grooming his sack and after fussing with it a bit, he started grooming everything else. At this point I took a deep sigh of relief. Now, he's playing and jumping around, eating a few crickets and just looking really happy that he's out of the collar, so I'm really reliefed, exhausted and happy all at the same time.
This has been without doubt one of the most stressful experiences for me, due to the fact that I really love Huubert just that much, and I would do anything for him. Roz asked me in chat who was more of a mess, me or Huubert, think Huubert was the one with the most stress, but I wasn't far behind him!
I'm sorry this got long, but at least I know ONE person will read this :) *gives Terry a hug in advance*
Here's some pics of Huubert in the really "pretty" collar I made him and some pics about an hour after his "release" :)
Huubert in the crappy collar I made, looking really pathetic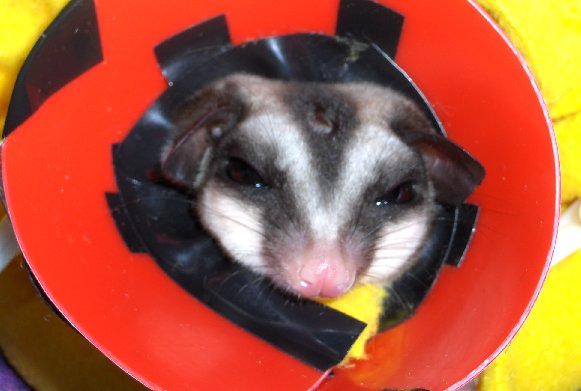 Huubert eating a cricket after his release, look at that fur. He has got the most beautiful coat I've seen, and just after a day and a half after not being able to groom, he looks like that!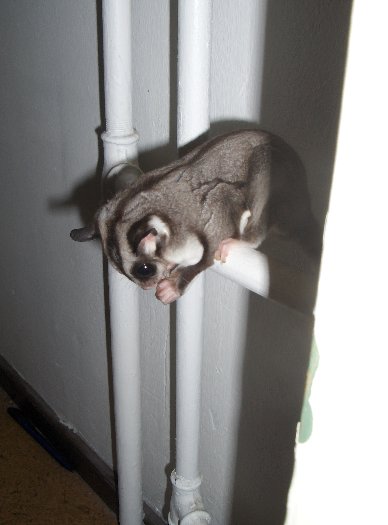 Hail, I'm out of the collar! Thank you everyone who gave my mom the support she needed!