I haven't had my coffee yet and don't even know where to begin .....
First Welcome, and second, Nothing I'm about to say is meant to be "mean" so please don't take it personally and just try to understand it's meant to help you and your gliders.
I don't know of any reputable "shelters" that would allow you to let your female interact with their gliders. They are risking your gliders health and their own gliders health in doing so.
While I do think it's great that you got your glider a cage mate, there are procedures that we follow to ensure our gliders stay healthy and are introduced properly. At one week of having the male they shouldn't even be in the same cage yet.
The male should have been neutered BEFORE he was introduced to your female. You took some big risks doing things the way did. Rescue gliders should not be bred. You have no idea if they are related or not and you likely will never know if they are or not. That is why we don't condone breeding rescues.
There is usually a 30 day quarantine period, you have both gliders fecal tested once at the beginning then again at 30 days in case any parasites were dormant for the first test. Gliders are territorial, usually we do scent swapping to let the gliders get to "know" each other before a formal introduction is made.
Is your female 6 months old? If so she should NOT be breeding yet. At 6 months old her body is not finished growing yet. IF she does produce joeys it's not likely that they will survive. Immature parents have been known to kill their offspring and even cannibalize them. If she rejects them YOU will have to hand raise them, that means hand feeding them every 2 hours around the clock for WEEKS depending on how little they are when she rejects them.
Then we have the size difference. Now I have a Neutered male rescue that is twice the size of my female and they get a long great. That is not to say it always works out that way. But the neutering helps.
I have 2 females that are within 20 grams of being the same size and one female beat the hell out of the littler one. 20 grams does not seem like much but it is a considerable advantage to the bigger one and disadvantage to the littler one.
This happened while I was awake and in less than 2 minutes while I was right there at the cage trying to separate them. Amy the one in the picture is still recovering and healing and has been separated permanently from the colony.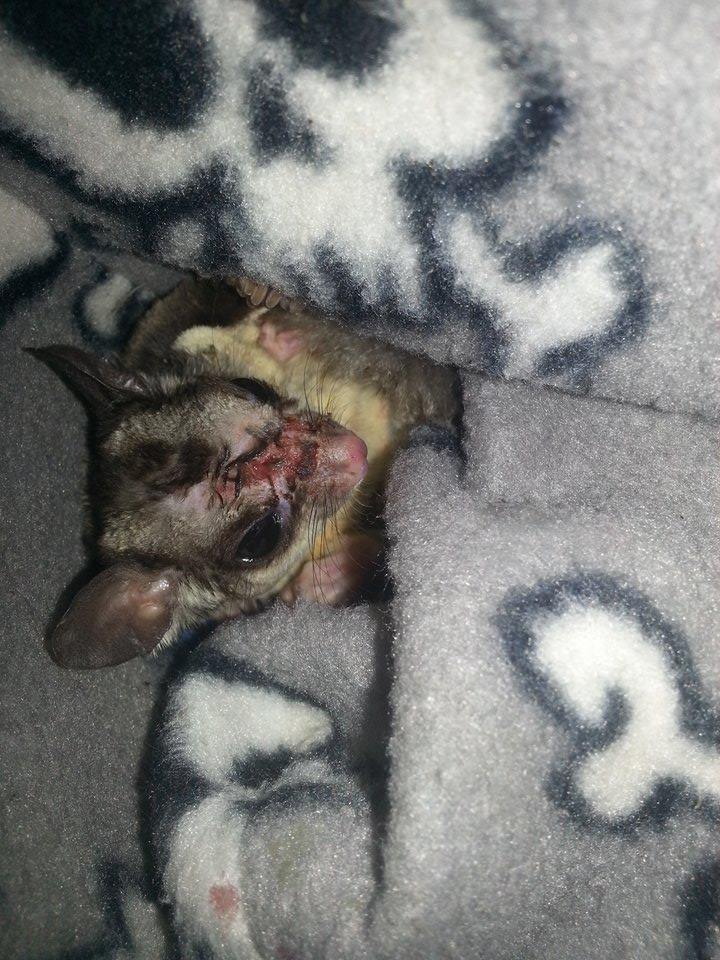 If your girl ALREADY has a mating or dominance wound you NEED to get some of this and quite possibly take her to a vet to prevent an infection. This bottle cost me 30.00 bucks and soooo worth it!!! I use it twice a day on Amy's face and she is healing up nicely.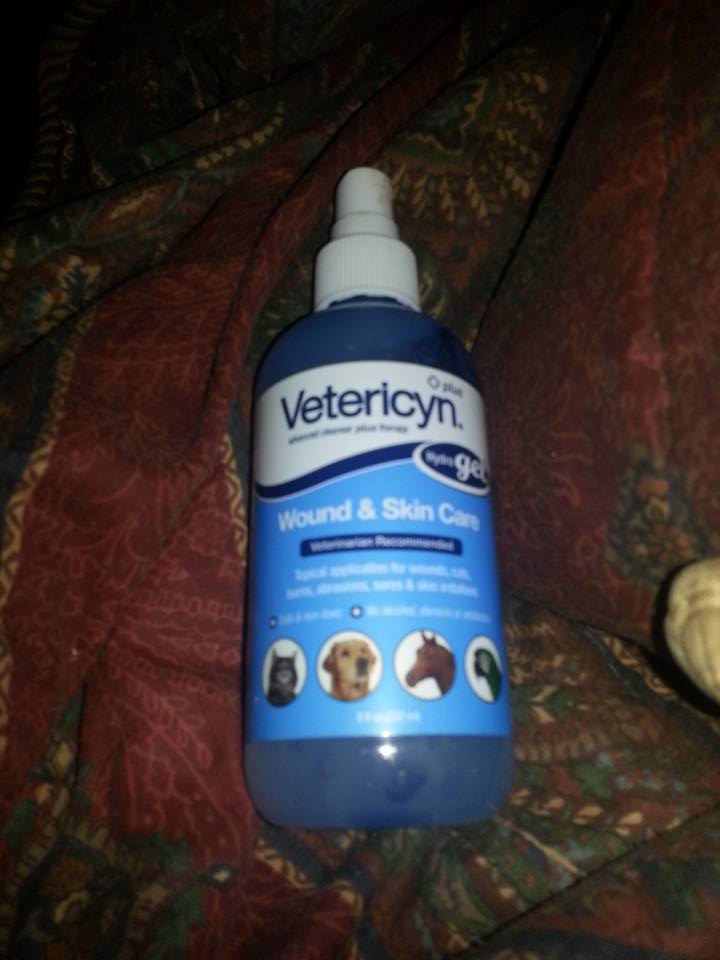 Bottom line here is that male needs neutered before you put them back together. When you do put them back together do it properly, do some research and read about introductions and scent swapping and what to looooook for to make sure the introduction was a success before just putting them in the same cage.
The neutering will help with several things, his aggression, his smell, preventing inbreeding, preventing joeys which YOU aren't prepared for. They BOTH should have fecal testing done especially since your female doesn't seem to be eating well or behaving normally.
The female in the picture above can not be returned to the other 3 gliders. So I have to start all over with her with another cage mate of her own. Pico, another female that's the same size as Amy just arrived yesterday. She is in her own cage and will remain in her own cage until I go through all the steps to get them ready for a formal introduction.
It could take a while as Amy I've only for about 2 months and is a rescue, Pico I just got yesterday and is also a rescue. They BOTH still need to be socialized and get used to being handled. I don't have a time frame for the two of them to be in the same cage. When the time is right then I'l introduce them, in neutral place.