I started handling joeys as soon as they were oop with their eyes still closed. However, the mom was a seasoned breeder before she was given to me, and a very mellow confident mom.
I would take them out when ever they weren't attached to mom. Sometimes by themselves sometimes with both parents so they could see the joey at all times, it really depended on if they were asleep or awake.
If mom is the nervous type, I'd only handle them when you are close enough to the mom that you can give her back the joey the second it fusses so mom knows you will give it right back. Don't keep the joey out to long, but build up to longer times gradually. Mom will probably sniff the joey all over and clean it right after you return it to make sure it's ok, that is normal.
There is a more experienced breeder on here maybe he'll have better advice for all that.
To sex them at this age is usually super easy, they haven't furred up a ton on their bellies yet so it's usually easy to tell right now but might get harder as they fur up.
The bald spot doesn't usually happen until the male starts approaching sexually maturity usuallllly around 4 months oop but it can happen earlier or later than that.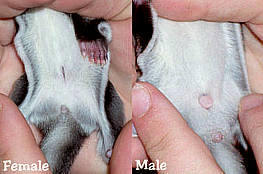 This has more pics
http://www.glidernursery.com/sexing-a-joey.html