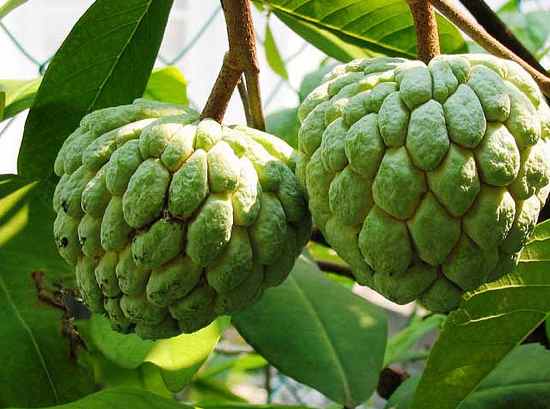 Sugar Apples or Sweetsop, is native to the tropical Americas, but is also widely grown in Pakistan, India and the Philippines. The fruit looks a bit like a pine cone, and are about 10 cm in diameter. Under the hard, lumpy skin is the fragrant, whitish flesh of the fruit, which covers several seeds inside, and has a slight taste of custard.
Food Value Per 100 g of Edible Portion*
Calories 88.9-95.7 g
Moisture 69.8-75.18 g
Fat 0.26-1.10 g
Carbohydrates** 19.16-25.19 g
Crude Fiber 1.14-2.50 g
Protein 1.53-2.38 g
Amino Acids:
Tryptophan 9-10 mg
Methionine 7-8 mg
Lysine 54-69 mg
Minerals:
Ash 0.55-1.34 mg
Phosphorus 23.6-55.3 mg
Calcium 19.4-44.7 mg
Iron 0.28-1.34 mg
Vitamins:
Carotene 5-7 I.U.
Thiamine 0.100-0.13 mg
Riboflavin 0.113-0.167 mg
Niacin 0.654-0.931 mg
Ascorbic Acid 34.7-42.2 mg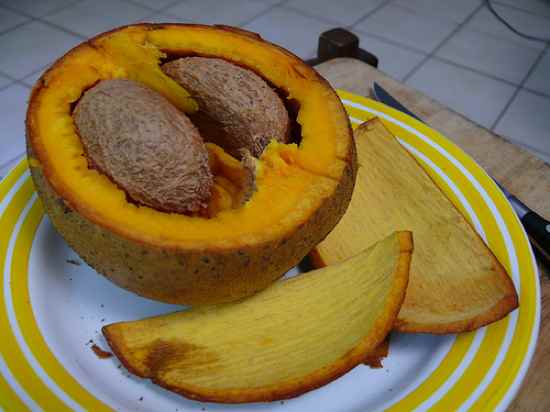 Mammee Apple, Mamey Apple or Santo Domingo Apricot is an evergreen tree, native to South America, which was introduced to various other regions of the world including West Africa and South East Asia. They can also be found in Florida and Hawaii. The Mammee apple is actually a berry and gets up to 20 cm in diameter. It has a thick outer rind, with soft orange to yellow pulp on the inside. It usually had one seed in the centre, but larger fruit have been known to carry up to 4. The pulp is sweet and fragrant.


Minerals:
Calcium:
93.06mg

Iron:
5.92mg

Magnesium:
135.36mg

Phosphorus:
93.06mg

Potassium:
397.62mg

Sodium:
126.90mg

Zinc:
0.85mg

Copper:
0.73mg

Selenium:
5.08mcg





Breadfruit is a large tree, in the mulberry family, found native to the Philippines and all the islands in Southeast Asia. The fruit is similar to bananas, as they can be eaten raw when ripe, and cooked when unripe. The ripe fruit is soft and sweet, while the unripe fruit is harder and starchy, which is where it got the name breadfruit from, as it tastes similar to freshly baked bread when cooked. for vitamins click this www.healthaliciousness.com/fruits/breadfruit.php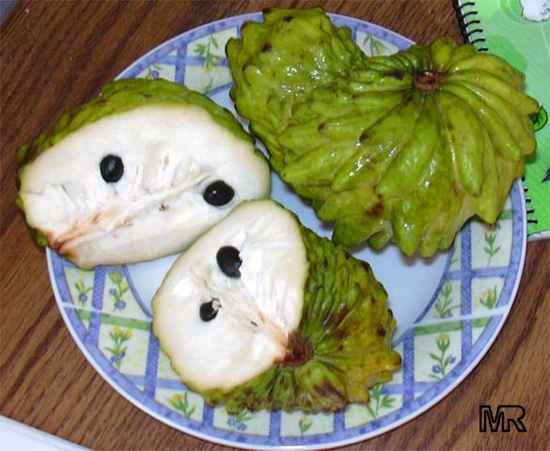 Cherymoya, or custard apple, is a deciduous plant found in the high lying mountainous areas of South America. The fruit is vaguely round and is found with 3 types of skin – Impressa (indented), Tuberculate (covered in nodules) or intermediate (a combination of the first two). The flesh inside the skin is very fragrant, white, juicy and has a custard like consistency. It is said that the fruit tastes like a combination of banana, passion fruit, papaya and pineapple. Mark Twain said in 1866 " the most delicious fruit known to men, cherimoya"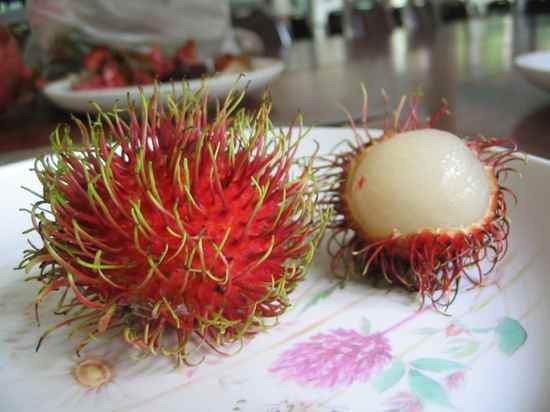 Rambutan is an odd fruit that looks like a furry strawberry from the outside, and much like a lychee on the inside. It is native to South East Asia, but has been spread and a smaller "wild" version can be found in Costa Rica, where it is called a Chinese sucker. The fruit is an oval shape and about 3-6 cm in diameter. Inside the slightly hard, but easily peal able skin, you can find a soft fruit that tastes slightly sweet, with a possible sour tinge.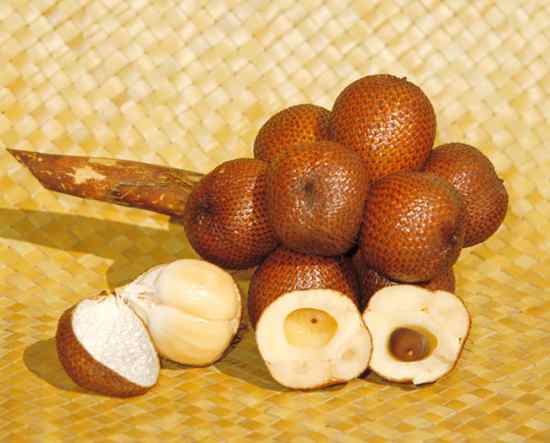 Salak fruit, also known as the snake fruit, comes from a species of palm native to Indonesia. These fruit grow at the base of the palm, and gained the name snake fruit from their red brown, scaly skin. The skin is easily removed, and inside are 3 white, sweet segments that each contain a large black inedible seed. When eaten, the fruit have a slightly acidic but sweet flavor, and the consistency of apples.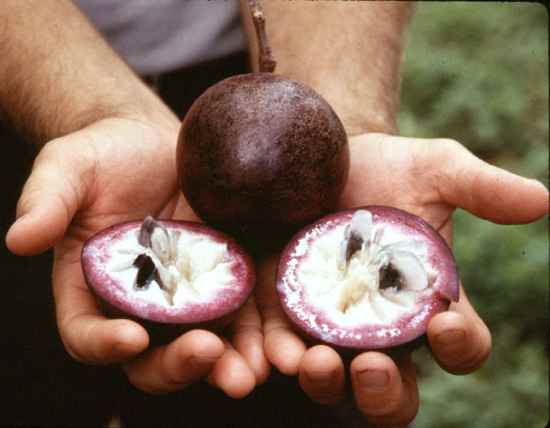 The Star apple is a fruit native to the low-lying areas of Central America and the West Indies. The underside of the evergreen leaves shine with a golden color from a distance, and the tree carries small white to purple flowers with a sweet fragrance. The fruit is round, purple and has a thick, latex filled skin. If the fruit is cut horizontally, a clear star pattern can be seen in the white purple pulp. The fruit is delicious fresh, with a intense sweet taste.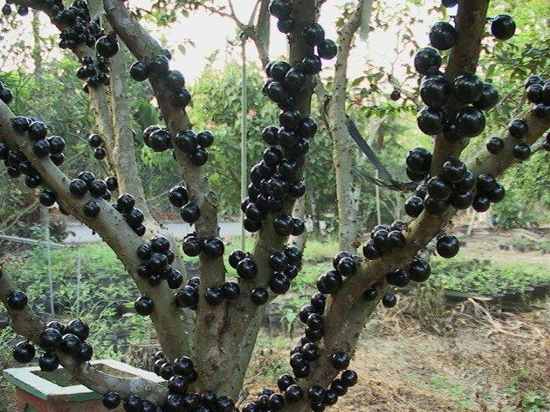 Jabuticaba, or the Brazilian grape tree, is a very strange plant native to the South Eastern parts of Brazil. What makes this plant so strange is that it fruits from its trunk. No, I did not make that up, and no the picture has not been photo shopped. Initially, yellowish white flowers will appear all over the trunk and main branches, these flowers will then turn into fruit, about 3 – 4cm in diameter. Inside the thick purple skin is the soft gelatinous flesh of the fruit, along with 1 – 4 black seeds. The fruit is sweet and can be eaten as is or made into a wine or liqueur. Unfortunately, the fruit does not keep long when off the tree and will start to ferment after about 3 or 4 days.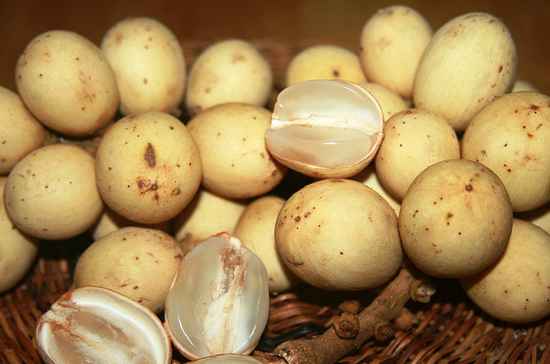 Duku or lungsat are two very similar fruits found throughout Asia. They come from the same family, look and taste identical, with one difference. The skin of the lungsat contains a latex substance, which is not poisonous, but causes the skin to stick slightly to the fruit, whereas the duku has no latex and the peel is removed with more ease. Inside, the fruit has 5 segments, some of which has bitter seeds inside. It is a very sweet fruit and can be prepared in a number of different ways, including being canned in syrup or being dried like raisins.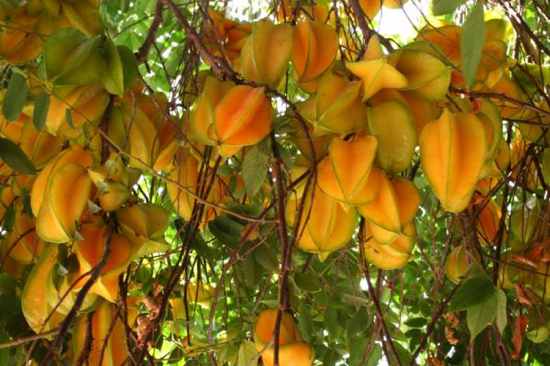 Star fruit or carambola is a fruit tree native to the Philippines, but can be found throughout Southeast Asia, East Asia, South America, Florida and Hawaii. This fruit has five ridges running down its length, which when cut sideways, makes the star pattern after which it is named. The fruit is rich in Vitamin C, and Antioxidants. The fruit turns a bright yellow when ripe, has a waxy skin and the entire fruit is edible, juicy and crunchy.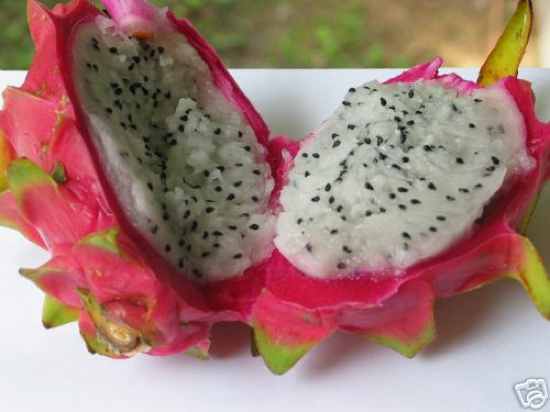 Pitaya, or dragon fruit, is a cactus fruit that can be found throughout Asia, Australasia, North America and South America, even though they are believed to be native to Mexico originally. There are two main types of pitaya, the sour types, typically eaten in the Americas, and sweet types found across Asia. The fruit comes in 3 different color varieties, Labelled as red, yellow and Costa Rican pitayas. The "red" fruits are generally a bright magenta color on the outside, with yellow flesh. The Yellow Pitaya is yellow inside and out, and the Costa Rican pitayas are magenta on the outside and the inside. They smell deliciously fragrant and most have a sweet flavor similar to a kiwi fruit






DizzyPo
Fuzzy Wuzzy






USA
1241 Posts
<blockquote id="quote"><font size="1" face="Verdana, Arial, Helvetica" id="quote">quote:<hr height="1" noshade id="quote"><i>Originally posted by prettyinpink5808</i>
<br />Where do you get these types of fruits?
<hr height="1" noshade id="quote"></font id="quote"></blockquote id="quote">
I find them in Asian grocery stores when they're in season/being shipped here.




OliTheGreat
Joey

11 Posts


Some photos from our members


Look what I found on Ebay