Exercise Wheels
Redirected from Random Page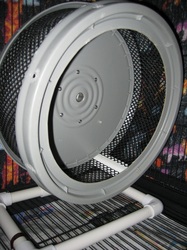 Safe wheel with mesh track and no crossbar for tails to get caught on.

Captive sugar gliders need exercise. This is paramount to maintain mental and physical health. The most important thing to include in your cage is an exercise wheel.


Safe Sugar Glider wheels include:

Stealth Wheel - Homepage

Raptor Wheel - Homepage

Fast Track Wheel- Homepage

Custom Choice Cruiser -Homepage

Rapid Runner Wheel - Homepage

Wodent Wheel - Originally popular for sugar gliders but is now losing ground because it has an axle crossbar and a solid track that can quickly get dirty.

Each of these wheel can be lined with a sandpaper strip to help maintain nails. These are often called Trim Tracks.


SEE ALSO:
Sugar Glider Wheels
Wodent: Glider Ripped OFF Tail! Crossbar Dangers.
Silent Spinner is highly dangerous
Twin spin is dangerous
DIY Trim Tracks on your wheels.
Adding a mesh track to your Wodent
Wodent wheels-not right for all gliders
Trim Trax to trim track
Wodent Wheel gets a mesh track