Posted by:
morganf

Hi all, I'm posting because sadly I need to find a new home for my gliders. I am going to college and will not be able to care for them. When I originally got them my sister agreed to take care of them until I got my own apartment but she has changed her mind and I've realized that as a college student I will be very busy and probably unable to take care of them as well as I should. They deserve love and attention, so that's what I want to find for them.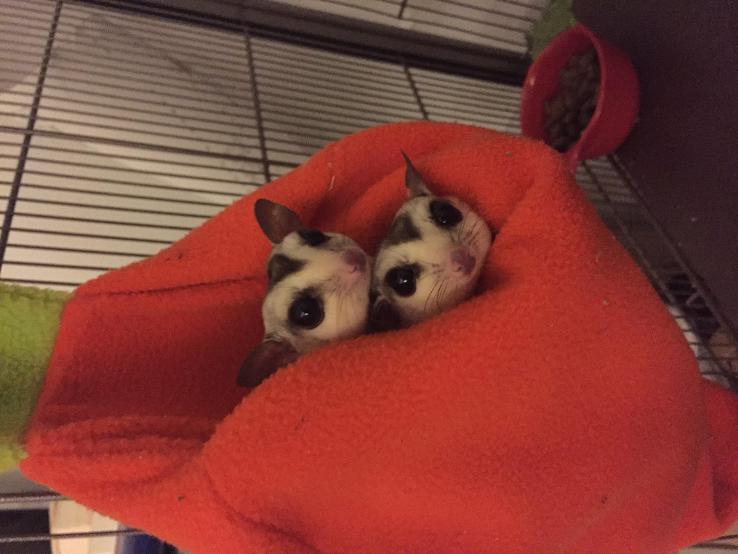 My gliders are both unneutered males and are white faced with a lighter grey coloration (possibly white faced blondes). I named them Jinx and Felix but obviously you could change their names. They are brothers about two years old so they have a lot of life ahead of them. I received them as a gift from my father so he has their birth certificates and more information about their lineage that I can provide you (I don't have them at this moment, but I will post more info once I do). They are both well socialized, but mostly with me, so they may take a bit of time to warm up to new people. They haven't bit me since I first got them except for small nips when they come up to greet you. They also have not crabbed at anyone since first getting them so they are pretty relaxed around people, and once you get to know them you can grab them right out of the pouch, no problem. Neither is super dominant over the other, although they occasionally bicker at each other (they have never intensely fought or hurt eachother). They also have never exhibited self harming behaviors which can occur, especially when unneutered. When I took them to the vet she said they were perfectly healthy and that they were "very well behaved for sugar gliders." They both are pretty relaxed and spend a lot of time snuggled up but they love to get crazy on the wheel and explore my room. Jinx is slightly lighter in color and has a larger white patch on his head (where his scent gland is). He is also a bit more timid and tends to freeze up when others are around, but once he is socialized with you, he will grow more comfortable. Felix is much more outgoing and loves to come to the front of the cage to greet people, especially if they have food (he is a bit greedy, but doesn't eat too much and is a healthy weight). Their favorite snack of all time is yogurt or yogurt drops (I usually feed them gerber brand yogurt) and their favorite fruits are mangos and blueberries (although, they make a bit of a mess with the berries. they'll eat the insides and throw away the skins). They both truly are wonderful gliders and are sure to steal your heart!
(Here is a link to a video of them on youtube if you would like to see more of them:
m.youtube.com/watch?v=y5cWDnPivos)
I'm not trying to make money off of them, but I also do not want to list them as completely free as to not attract the wrong type of people. I am listing the price as $500 for both of them (I will not give them away separately, as they are bonded) along with all of my supplies except for the cage (it is getting a bit old and they should have a new one). The price, however, IS negotiable. I just want to find them a good home. So if there is someone I feel is best for them, I may not ask for much at all.
The supplies I have are bonding pouches, pouches for sleeping in the cage, climbing ropes, food bowls, a water bottle (the other one is leaky so I am not giving it away, however, they should have two water bottles), and a cage set. I also have some padding for the bottom of the cage as well as some leftover cage cleaner and odor remover. If you would like my food supplies, vitamins, and beaba ice trays (I used all these to make the BML mix), you can have those as well.
I live in Bethesda, MD, in the Washington DC area, I would much prefer if someone would come pick them up, but we can work that out when the time comes.
Again, PLEASE only contact me if you know how to properly care for them and will give them all the love they deserve. I care for them deeply and hate to see them go, although I know it's for the best.
If you are interested, email me at morganfilyawbusiness@gmail.com or text at 301-275-0426. Please don't call, as I probably will not answer to an unknown number.
I hope to hear from you soon. Thanks!